If you are in the market for a new leather sofa, you can enjoy browsing through a vast selection today. You may be undecided about the ideal color to choose for your home, apartment or college dorm suite or office. My biggest problem when trying to make a purchasing choice is that nearly all colors look fantastic in quality leather.
You are most likely on the lookout for a fashionable sofa in your favorite leather couch colors and shades. You may be considering a charming deep-cushioned sofa design, an ornate vintage love seat, or a sleek-lined minimalist model. When remodeling a room interior, complement its decor with the addition of a desirable new sofa in the same stylistic mode.
For new interiors, let your imagination run the gamut from grandiose elegance to everyday ordinary, then pick your dream-sofa design.
The best choices for a fashionable and practical new leather sofa in your choice of leather couch colors today include the following styles and hues:
Black Sofas
Handsome Black Sofa on a Crisp White Background
With this smooth, handsome black leather sofa in your den, living room or office lounge, create a clean-lined style. Against a pristine white wall or a sedate vine pattern in pale green and beige, this attractive two-seater is stunning.
Black can be paired with virtually any other color, producing a different fashion dynamic and ambiance with each new hue. Pleasing patterns in subtle or strident leather sofa colors are also right partners for black for highly desirable room decor.
Contemporary-Chic Large Sectional in Sleek Ebony Hues
This large contemporary sectional in streamlined, updated chic ebony sits low to the floor. Paired with a low square coffee table in sleek stainless steel with a black enameled top, this sofa embodies sophistication.
A higher rectangular side table of the same style mirrors the overall atmosphere of calm elegance. The tall stainless-steel floor lamp in minimalist mode and the tabletop's long-stemmed wine glass reaffirm the sedate interior decor.
Vintage Style with Smooth-Sculpted Volume and Luxurious Comfort
This attractive black vintage-style sofa provides the desirable volume and comfort of the 1960s design. The subtle pattern of studs on the leather upholstery covering the fronts of the armrests lends simple, practical style.
The recessed button-brackets that form the pleasing tufted volume of the sofa back emphasize this model's vintage appeal. Placed near white or hardwood surfaces, this leather design shines with subtle charm.
Black Vintage Armchair Sofa with Ornate Wood Decoration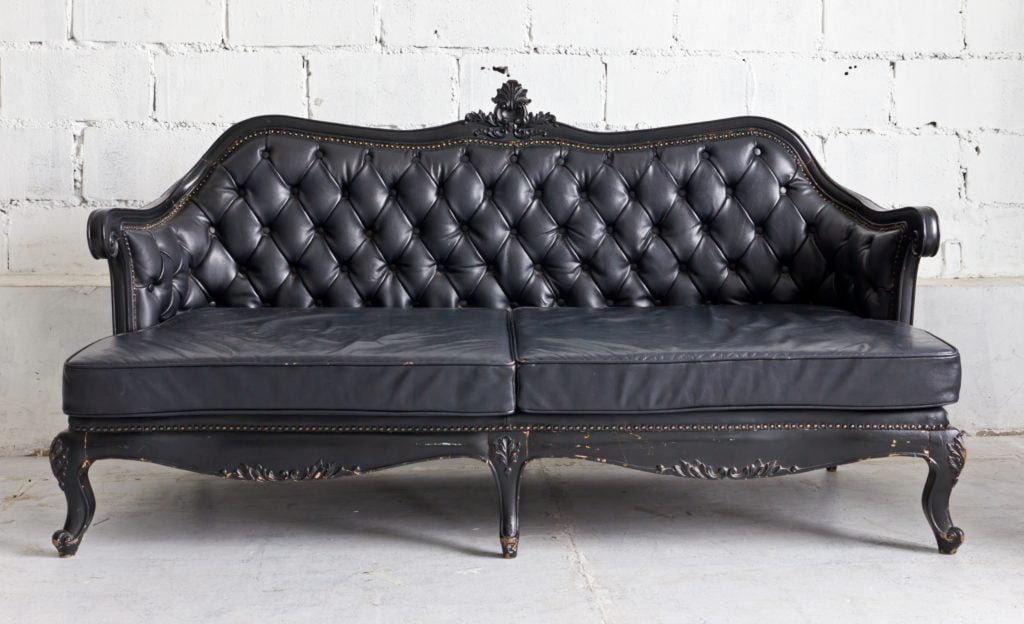 This antique style tufted leather sofa in stunning black leather offers a slender, sedate double-armchair design. Suitable for your living room, den or home entryway, it provides a small-scale, attractive 1930s quality.
With ornately carved wood bordering the top of the sofa's back, this design is an ideal conversation piece and seating space. The decorative carved wooden legs and bottom border accent the endearing vintage warmth of this stylish piece.
Black Leather Sofa and Fold-out Bed Design
As a stylish and convenient sofa and fold-out bed, this black leather sofa melds fashion with practicality. Its squared frame and overall design are softened pleasingly with thick seat and back cushioning.
This sofa's short, sturdy legs offer a steady, stable base and facilitate easy moving and repositioning of this attractive couch. This piece is a perfect furnishing for a home entertainment room, family lounge or bright, casual solarium.
Red Sofas
Long Red Leather Chester Sofa with Stylish Tufting Work
This smooth, chic console-style sofa provides plenty of spacious seating. Its appealing low-to-the-floor design offers comfortable seating for TV and game rooms and large family dens.
The intriguing low, cushioned back exhibits a fashionable linked tufting pattern that adds pleasing style. The overall lustrous sheen of the radiant red leather will brighten and enliven any room in your home.
Contemporary Modular Red Leather Sofa with Soft-Padded Comfort
In dynamic contrast to the grey room surrounding it, this updated modular red leather sofa offers a strong fashion statement. Its plush rectangular and cylindrical cushions provide the ultimate comfort and relaxation.
The varied shades of grey of the background wall and marble tile flooring emphasize the bright vitality of this design. The sofa's cushions can be rearranged to suit your mood and to satisfy your household's comfort zone.
Deep Red Vintage Couch with Wave-Back Style and Curled Arms
This appealing vintage sofa design in deep red displays a pleasing wave-back design with curled, rams-horn arms. Its tight, sculpted body offers detailed, volumetric style that invites the viewer to sit and relax.
The sofa sits against a stunning antique distressed brick wall with traditional black and white squared tile flooring beneath. The worn faux zebra-striped rug in front of the couch lends a pleasing contrasting pattern of black and white.
Geometric Design Red Leather Sofa for Leisure with Casual Elegance
As an appealing modern design, this geometric style red leather couch has a whimsical look of casual elegance in a favorite hue among leather sofa colors. It appears to be scaled either according to 1930s dimensions or styled for a child's room.
Yet this delightful soft sofa offering abundant cushioned comfort is a two-seat model for full-size adults. The central cylinder that serves as a shared armrest has a playful, inviting quality.
Luxurious Red Leather Armchair with Irregular Shaped Back
This unusual antique armchair design in luxurious red leather is the perfect central feature of a shabby chic decor interior. Although in excellent condition, its opulent and unusual style places it among the creative fashions of celebrated French country furnishings.
The irregular shape of this sofa's back curves to its highest point near one end. From a creative designer's perspective, the result suggests a sideways version of a decorative chaise lounge.
Grey Sofas
Plush Matte Grey Leather Sofa Surrounded by Multi-Grey Tones
This sedate, expansive modern leather sofa in plush matte grey is a stunning addition to an all-grey room interior. The surrounding decor ranges from medium grey tones to feathery light grey-white.
The deeper tones of the large, lavish-scaled sofa with thick, sculpted cushions have a pleasant grounding effect on the decor. At the same time, this sofa brings a strong quality of elegant comfort and charm to this large, open-concept space.
Medium-Light Grey Leather Sofa with Charming Cross-Stitch Back Tufting
With its attractive back's cross-link tufting design, this sedate yet artful leather sofa offers medium-light grey beauty. It dresses up and brightens the muted neutral tones of the antique brick wall and painting as background.
This empowering sofa coloring also coordinates the subtle greys, pinks and sand hues of the wall and natural wood floor. This sofa can lend outstanding charm and allure to many different decor styles and color palettes.
Modern Bright Interior Enlivened by a Chic Grey Leather Sofa
This low-back chic grey leather sofa with its sleek, molded form and over-sized cushions offers appealing style. It also brings order and stability to the room decor while providing comfortable luxury.
The delightful vintage floor lamp with multiple shades and tassels complements the couch with its similar tones of grey. The light-grey shades of the wide-plank wood flooring and rustic brick wall enhance the mystique of an empty wall frame.
Sleek Minimalist Sofa Design in Deep Grey Leather
As a pleasing, cool minimalist design, this long sleek sofa style in deep grey leather offers rich, fashionable visual appeal. Its spacious rectangular seat and back cushions are accented by two square pillows in matching grey tones.
The nearby large, artistic pendant design suspended above a low white side table is intriguing. This unique pendant creates an image of lighthearted creativity and fun above the two elegant ebony pottery tabletop pieces.
Beige Sofas
Streamlined Light Beige Leather Sofa with Molded Simplicity
This small streamlined leather sofa design exhibits molded simplicity in matte-finish light beige. Its slender, utilitarian stainless-steel legs accent the casual, uncluttered lines of this unique design.
The seamless construction of both top and bottom sections gives this modern minimalist couch a charming quality of simple continuity. Include this clean-lined, casual sofa in your bar and entertainment room or den for added charm and comfortable use.
Informal Golden-Beige Sofa with Matching Footstool
This pleasing informal sofa design in well-padded golden-beige leather emphasizes pure comfort and utility. Its softly squared edges blend gently with shapes of other room furnishings and decor.
The tan and grey marbled floor and fluffy sand-colored shag rug embellish the warm, relaxed style of this comfy couch. Its thickly-pillowed footstool is a welcome and compelling addition to this casual sofa and its glass window-wall background.
Large Corner Sofa in Elegant Light Beige Leather
Offering attractive simplistic style and glowing light beige allure, this unadorned leather sofa exhibits quiet beauty. Combining easy, everyday use with serene, lasting charm, this couch dresses up a plain room and styles down a lavish one.
The smooth, flawless surfaces of this sofa have a somewhat delicate appearance. Yet the overall sturdy, enduring quality of its materials and underlying structure reveals its practicality for reliable long-term use.
Contemporary Deep Beige Chaise Lounge Style Leather Sofa
This chic contemporary chaise lounge sofa design in deep beige leather offers both elegant and casual charm. Its attractive L-shape structure ensures spacious surfaces for relaxation and enjoyment.
Decorated with assorted pillow designs, this slender, sleek couch can enhance your family room, solarium or bedroom. Its surfaces glow with the semi-sheen finish of soft and pliable fine quality leather.
Green Sofas
Well-Stuffed Grass-Green Leather Sofa for Fresh Decor Updates
The large, volumetric cushions of this appealing leather sofa in fresh grass-green give a lavish, layered effect. They seem to offer a welcome invitation to stretch out amid their plush soft surfaces for leisurely relaxation.
This comfortable couch rests firmly on the floor without legs or hard supports that can scratch and scrape hardwood or tile surfaces. The young, fresh green tones of the leather offer an uplifting, lighthearted effect to enhance your current room decor.
Lemon-Lime Green Leather Sofa in Seamless Minimalist Style
A perfect choice for the kids' TV and entertainment room, this durable lemon-lime green leather sofa offers seamless minimalist lines. It also provides the sturdy, touch-surfaced support that is needed to withstand the playtime antics of young children.
Kids relate to the warm yellow-green hues of this simply designed, utilitarian couch. Its high back and tall, thick molded arms provide good protection from falls as children watch active screens and play.
Deep Forest Green Leather Sofa in 1950s Casual Style
This soft leather sofa design in inviting deep forest green is great for recreation rooms, outdoor entertainment rooms and dens. It offers the look of a pliable, comfy couch for lounging and relaxing while enjoying leisure time.
You never need to worry about maintaining the good looks of this casual sofa design. Whether its cushions are smoothed and straightened for guests' relaxation or rumpled and dented from overuse by the kids, it retains its warm allure.
Classic Leather Sofa in Cool Green Hues with Silver Sheen
This sophisticated cool green sofa in silver-sheen-surfaced leather displays classic tufted design. Its neat, orderly tufting and elegantly sectioned armrests lend sedate elegance to any fashionable decor.
The two square matching pillows inclined serenely against opposite couch corners give permission to enjoy some moments of leisurely rest. Although its surfaces may appear somewhat delicate, this fine leather couch will last for long-term use.
White Sofas
Sophisticated White Leather Sofa in Sleek, Sculpted Style
This smoothly structured white leather sofa with elegant, decorative black studs takes center stage in this all-white room. Its controlled and balanced yet chic and glamorous style reflects fashion modes from the 1940s.
Mounted on stylish swivel wheels, this stylish sofa can be easily moved for repositioning as desired. It is equally suitable for elegant living room furniture and as a featured item of decor in a modern-minimalist interior.
Low-Back Stylish White Leather Sofa with Decorative Tufting and Studs
This modern, lightly tufted white leather sofa has the smooth look of pristine chiseled marble. Its smooth, regular shapes and surfaces leave no possibility of imperfection.
The small silver armrest studding and leather-covered tufting studs lend a pleasing quality of precision design and artful production. This medium-sized, fashionable couch expands in visual perception when placed in front of the black tufted-style wall.
Pure Minimalist Snow-White Leather Couch Design
The luxurious, sleek precision of this simplistic white leather sofa is the epitome of modern minimalist fashion. Its surfaces offer the ideal stylish relaxing and napping spot for your entire household.
The pure lack of deviation in this sofa's simple rectangular platform structure is pleasing and rare. Its stark simplicity of lines plus the overt elegance of the superb white leather offers unique allure.
Luxurious White Leather Sectional Ensemble for Living Room Elegance
This sleek-surfaced yet lavishly arranged white leather sectional ensemble offers ultimate style in contemporary living room decor. It has endless possibilities for rearranging and positioning to meet your immediate preferences and needs.
The optimal quality white leather of this ensemble is durable, lasting for long-term, regular use and enjoyment. This large sectional sofa and the matching ottoman bring pristine white beauty to this spacious living space and hardwood floor.
Blue Sofas
Conservative Sofa Design Embellished by Brilliant Blue Leather Surfaces
The irresistible brilliant blue hues of this conservative sofa design make it a desirable choice for home decor updates. Whether you are renovating your living room, solarium or dining and entertaining area, this ultra-elegant sofa is a must-have.
This outstanding sofa design makes a stunning central feature in large or smaller living rooms. If you have an open- plan dining room and entertaining area, this sofa adds glam and glitter to your interiors.
Opulent Blue Leather Sofa from Elegant Past Eras
This lavish blue leather sofa with ornate decorative accents from past eras lends vintage charm to all modes of decor. Although in excellent condition, its style is definitive shabby chic with an emphasis on chic.
The rich sea-blue leather is ornately tufted across the high back of this stylish sofa. The wave-back design and rounded armrests are emphasized by the elegantly curved, handcrafted wooden legs and the leather's fine sheen.
Bright Blue Leather Sofa Radiates Relaxing Comfort
The endearing boxy openness of this casual country-cottage sofa in bright sky blue invites you to indulge in relaxing comfort. The pillow-softness of this sofa's forms makes it the ideal selection for your family den or entertainment room.
The plush thick cushioned seats and soft high back of this couch offer heights of ongoing leisure enjoyment. Relax while watching your favorite movies, videos or shows on your big home-screen from the depths of your comfy couch.
Blue Home Lounge Couch for Your Family Room or Den
This minimalist design smokey-blue couch in smooth leather with soft grey decorative pillows enhances a deeper blue patterned backdrop. The stunning matching blue-bordered white rug, leather bench and framed wall-mounted graphics accentuate the room's simplistic elegance.
This slim, understated sofa design offers calm, reassuring and lasting appeal. Try placing this subtly stylish couch in virtually any room of your home today for an added touch of elegance.