Brown wall interior decor is currently growing in popularity. One reason for this is that brown is an earth color, and natural decor hues and materials are now in demand. For both home and office decor today, leather, natural fabrics and decorative items of wood, stone and glass are desirable.
Another reason for the frequent requests for brown walls and decor for room interiors today is that brown is restful. It is also a color that is compatible with all other colors and shades of the spectrum. When you start with a brown wall idea for a room design, your choice of palette is virtually endless.
Just as brown goes well with all other colors in nature, it will add beauty, depth and character to any room decor.
Let's take a look at 30 innovative wall decor ideas to enhance your room interiors!
Room with Warm Brown Walls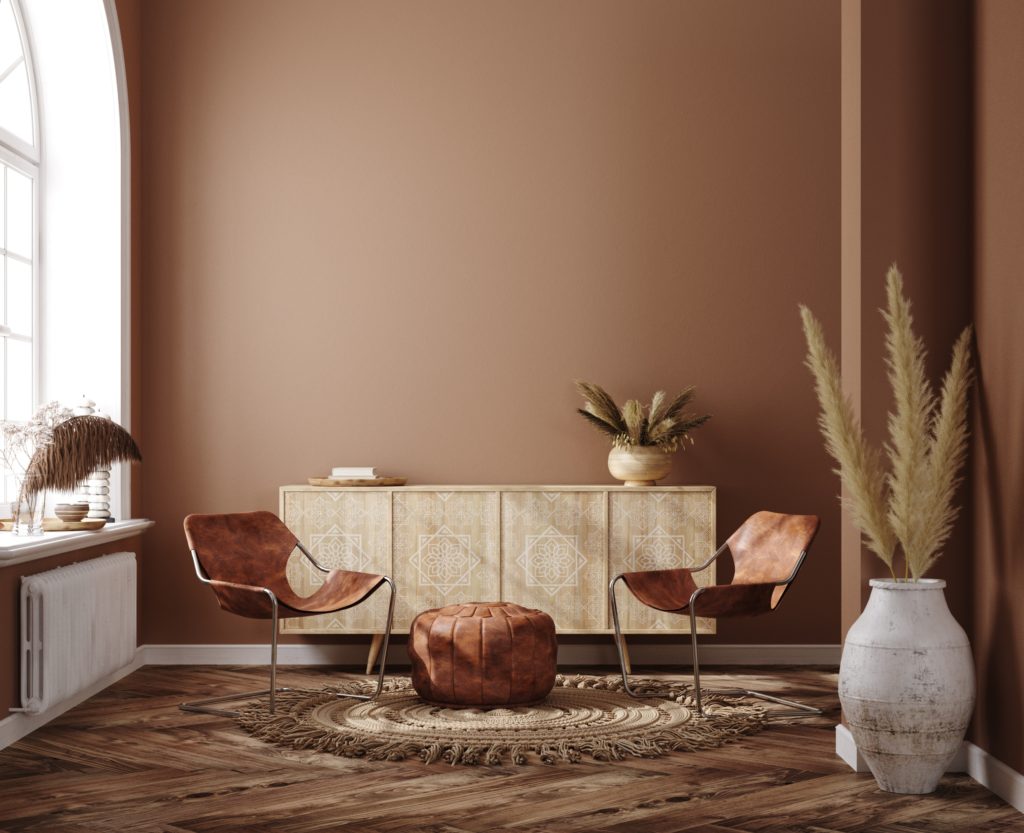 This deep cocoa brown wall is warm and appealing as the perfect background for showcasing your favorite furnishings. Some dark colors tend to make rooms seem smaller than their measurements. Yet the yellow, orange and green tones in this shade of brown actually open up this interior, expanding it visually.
The caramel-colored leather cafe chairs and matching leather ottoman reflect natural light from the window. Across the room, the light grey urn with wheat-toned reeds lends a refreshing natural touch that pleases. Beige tones of the modern credenza and the casual-chic appeal of the sand and brown round rug blend seamlessly. Tying all together, the rich wood hues of the flooring add sedate beauty.
Terracotta Wall Color for a Casual and Elegant Interior
This rich terracotta wall color enhances the room's attractive seating arrangement. The light gold sofa with pastel coral, lemon and blue pillows paired with two rattan armchairs is enchanting. The additional deep gold pillow, round light wooden coffee table and decor lend charm along with the tall potted tree.
The light sand-colored terracotta urn with dried flowers blends elegantly with the room's natural allure from one corner. The light wood flooring has a slightly rustic quality, adding an atmosphere of lasting appeal to this interior. Both the floor and the terracotta wall reflect warm, natural light from a nearby window, creating a soft glow.
Stylish Kitchen and Breakfast Nook with Featured Brown Wall
This attractive brown wall unites a contemporary kitchen and breakfast nook with smooth, sleek elegance. It also serves as the ideal backdrop for the light sand-colored minimalist breakfast table and chairs. In addition, the wall's medium-brown hues complement the darker brown of the kitchen appliances.
The wall-mounted geometric style painting of squares in grey and white is mirrored by the small area rug on the floor below. The hexagonal wall nooks on the kitchen wall above the benchtop lend creative style. On the breakfast nook table, the vase of white flowers and a plate of brightly decorated cupcakes add inviting charm.
Lovely Light Brown-Beige Walls for a Bright, Welcoming Interior
The light shade of brown-beige of the walls in this room needs very little light to brighten the entire space. As the walls absorb and reflect the radiant color from the strong pumpkin, mustard, auburn and chocolate pillows, the room brightens. The bold golden throw adds to this source of enlivening color.
Geometric shapes and hues in the three contemporary wall paintings are repeated in the small chest across the room. The nearby open shelving unit displaying vases and floral decor also mirrors similar forms. The beautiful low cherry wood coffee table reflects soft light from the long window curtains while mini-pumpkin decor adds cheer.
Fashionable Brown Living Room with Classic White Doors
This stunning red-brown living room wall sets a warm, vibrant stage for the interior furnishings and decor. With the addition of the red oak flooring, the entire room comes alive with a soft, constant glow. Gentle light filtering through the attractive black and white patterned window curtains adds more soft lighting effects.
Minimalist lines of the slim black metal desk and chair and the sofa's streamlined elegance lend an open, simplistic feeling. The pink and brown sofa in soft fabric and shades brings simple style and elegance to the room. Besides the classic white doors that add a sedate element, several cactus plants in woven baskets bring outdoor freshness inside.
Child's Brown Room with Striped Bedding and Teddy Bear
As a child's warm, cozy bedroom, this light brown interior displays a soft bed with attractive brown and white bedding. Sitting on the bed is an adorable fuzzy brown teddy bear, ready for play and sleep time. Near the bed is a natural-fiber covered exercise ball with an open storybook balanced on top.
Beautiful red-brown tones of the two cylindrical tables beside the bed are reflected by the polished oak wood flooring. Books and a large deep cocoa-hued vase holding a group of animal masks in brown lend childish charm. The simple light-wood chair with soft green cushions and the tall glass vase with dried reeds add casual appeal.
Serene Brown-Grey Living Room Walls with Elegant Decor
This sedate and serene living room with soothing medium brown-grey walls has a calm, relaxing atmosphere. The elegant tufted sofa in fashionable beige with soft golden tones is decorated with brown, white and tan pillows. A large silky throw in soft sand-colored fabric is draped casually from the sofa to the floor.
The attractive spool-design coffee table's lustrous maple wood color tones reflect soft light from a nearby window. On the tabletop, a rich chocolate-hued rounded vase and a curved white plate add decorative accents. Beside the sofa, an ornate ceramic lamp brightens a pair of mono-toned paintings similar to the brown of the walls.
Pleasing Light Brown Wall with Chameleon Effects
Pleasing and versatile, this light brown-beige wall changes color according to the room's natural or artificial lighting. During the daytime, with natural sunlight shining through the window, the walls are a warm light brown-beige. At night, under artificial light, the wall color changes to a cooler silver-brown.
The stunning deep pumpkin-colored sofa with its plush fabric-covered cushions is the primary focus of the room's palette. The low round cherry wood coffee table in sleek minimalist style absorbs and reflects soft light. The neutral woven rug, white shaded ceramic lamp and two mono-toned white paintings also brighten and enliven this interior.
Botanic-Style Interior with a Soft Brown Wall that Extends Space Visually
This attractive botanic style living room interior looks lived-in and comfortable. Its large soft brown wall seems to extend the room's space while enhancing the palette of the overall decor. The creative freestanding shelving unit against the light brown wall and the round wall clock beside it lend simplistic elements. The large ottoman, which matches the sofa and its bold orange and white drape add pleasing contrasts. Bright sofa and chair pillows add colorful accents and texture.
The grey-brown and white sofa with white cushions and the cushioned, modern, and comfortable chair in gentle beige reflect contemporary fashion. Although this room has an abundance of cacti and other fresh plant life, most viewers miss a few at first. It takes a careful gaze to realize how many different botanical gems are gathered here to decorate this healthy interior. Even the neutral rug brightens amid this softly but well-lit decor.
Stunning Red-Brown Living Room Wall with Rustic and Modern Decor
This luxurious deep red-brown living room wall is paired with a unique combination of rustic and modern decor. The rustic wooden dresser serving as a credenza offers a distinctly vintage style. The simple soft gold vase with delicate flowers and the brighter central gold bowl add a rich ambiance of older elegance.
Yet the low, soft-cushioned easy chair in beautiful mustard-brown textured fabric has a definite modern-decor appeal. Small pottery items on the dresser and the trio of slender suspended gold and white lights lend modern sophistication. However, the antique shiplap-style floor boards repeat the pleasing rustic mode of decor.
Fashionable Brown-Wall Living Room with White Sofa and Beautiful Silk Pillows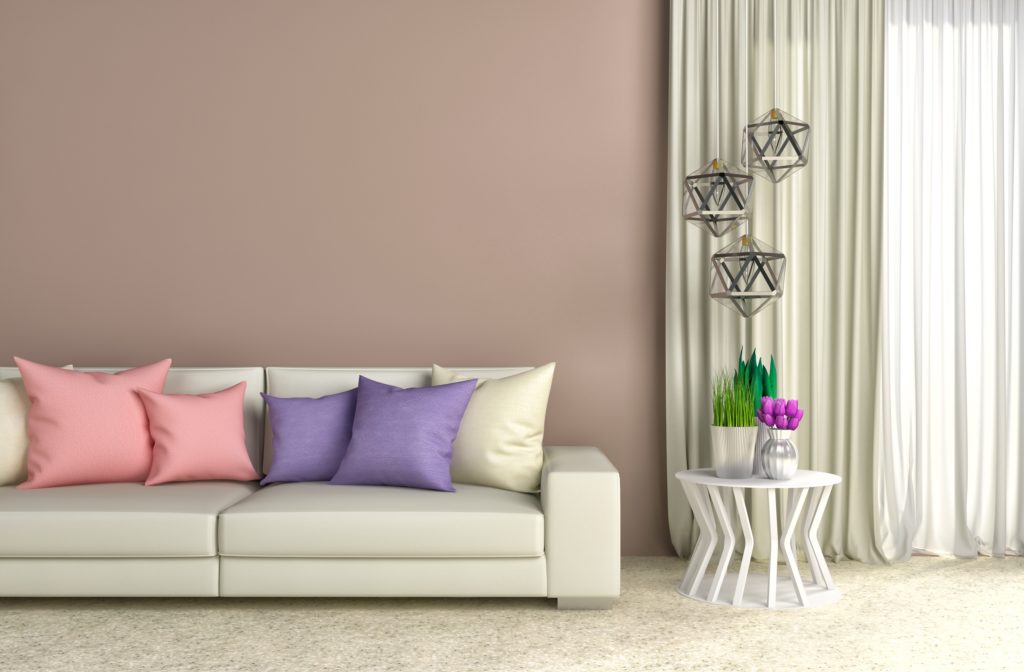 This unique living room decor exhibits brown-wall fashion enhanced by a chic modern white sofa decorated with bright pillows. These stunning silk pillows display vibrant pink, violet and white hues, complementing the multiple tones of the rich brown wall. An elegantly patterned rug in light cream and silver-grey and long, floor-length window drapes are luxurious in their simplicity.
Between the elegant sofa and drapes, a curious round white table with multiple legs bent inward at the middle add lighthearted style. On the tabletop, two white vases display freshly grown green shoots and brilliant lavender tulips. A tall Art Deco lamp offers three multi-dimensional open-form, star-shaped light fixtures to illuminate this creative room theme.
Luxurious Entry Hallway Brown Wall Decor with Antique Accents
As a beautiful display of classic design and decor, this luxurious entry hallway has deep cocoa-color walls. Enhanced by pristine white molding and a traditional white wooden door and frame, this hallway has lovely beige marble flooring. Small brown accents on the floor also align with the rich cocoa walls.
A stunning white settee in 1930s small size and elegant style has a dark brown wood structure and legs. Near the settee, a delicate white one-drawer table exhibits a charming antique telephone in black and gold. A stately round clock with Roman numerals hangs on the brown wall above the settee. A classical painting and a china bowl of colorful flowers on a tall metal stand add color and vintage intrigue.
Fashionable Grunge-Style All Brown Living Room with Appeal
As an example of true grunge style, this darkened, all brown living room includes varied shades of brown only. In typical dark grunge fashion, this interior has walls painted in several slight variations of a shade of brown. This muted color tone plus the low lighting give the wall a cool, industrial hue of cool grey-brown.
On the worn vintage rug in light brown and tan sits a large, low-backed modern couch covered in deep cocoa faux-suede fabric. Nearby, a chocolate-colored round, low modern chair covered in nubby fabric adds shades of elegant grunge. Two low, round pedestal-style tables in dark grey-brown are near the couch, and modern ceramic art decorates one wall.
Open-Plan Living Space with Large Window and Brown Wall Decor
As a sleek, open-concept living space with one wall as a floor-to-ceiling window, this brown wall decor interior is stunning. The beautiful polished light hardwood flooring and streamlined design of the long bar and window-side seating are highly attractive.
The deep grey-brown wall with its large animal painting, the dark brown door-frame and other lighter brown walling pleases. A simple yet elegant modern deep-grey sofa with grey, tan and white pillows along with the low oval table adds updated character. The side table next to the couch mirrors the contemporary style of the larger oval model.
Spacious Master Bedroom with Sophisticated Leather Wall Paneling
An elegant background for the stylish king-size bed in this spacious master bedroom is provided by light-brown leather walling. The series of light leather panels composing this wall create a soft semi-luminous surface with slightly 3D visual effects.
The light ash-wood flooring and dark brown timber wall on one side of the room add appealing natural beauty. Across the room, tan drapes overlay sheer cream-colored curtains, and an elegant deep beige armchair lends decorative style. The soft grey-brown and sand-hued bedding and crystal chandelier above add classic fashion.
Stylish Brick Wall with Luxurious Brown Chesterfield Sofa
This attractive room with casual-chic decor has beautiful brown brick and wood walling. Light reddish-brown brick forms the ideal backdrop for a stunning chocolate-colored Chesterfield sofa and forest-green, wood-framed armchair. Two small round maple-wood coffee tables lend pleasing simplicity.
Decorative timber wall paneling beside the brick adds natural appeal. The split-level flooring in wide-plank oak emphasizes the room's open, natural atmosphere, while a light neutral rug lends brightness. Beside the sofa, a tall brown minimalist lamp and a flowering plant lend accents, and sofa pillows create color pops.
Beige Wall with White Couch in Modern Living Room Interior
In this light neutral modern living room, a soft-cushioned white couch sits in front of a smooth light beige wall. A pair of sleek brown floor lamps with simple white shades border the couch ends. Two round natural light-wood coffee tables enhance the overall decor, and tall timber ladder shelving decorates one wall.
Several tan and beige-and-white striped couch pillows complement the natural fiber woven floor rug. Floor-to-ceiling sheer white drapery dresses the long windows on one side of the room. Soft filtered daylight from the windows sheds pleasing light on the gentle hues and tones of this calm modern interior.
Deep Brown Wall with Elegant White Modern Armchairs and Accents
A pair of stylish and luxurious white silk and mahogany-finished wood armchairs are stunning against this deep brown wall. The smoothly elegant white fabric chairs are emphasized by the coffee table's classic crystal decanter, glasses and white flower.
The sleek, square, modern dark-wood coffee table displays a matching lower shelf and stainless steel legs. The deep-brown surfaces of the table accent the dark wood of the armchair frame. On the floor, the subtle cream and beige design of the lightly textured woven rug lends refreshing neutral tones.
Red-Brown Wall with Rustic Furnishings and Natural Decor
This rich red-brown wall sets the stage for an inviting rustic style interior. This living room has a comfortable, casual farmhouse style and includes a long vintage wooden bench for seating. Other furnishings include a straight-back wood chair with a curved upper back-rest and a casual wooden easy chair with grey-brown cushions.
Cactus plants, a rustic lamp with a brown woven lampshade and a vintage white-glass light add character. The lamp's smooth, barrel-style base enhances the room's farmhouse appeal. The white molded coffee table and white glass lamp align to add brightness, and a vintage throw and pillow lend charm.
Red-Brown Living Room Wall with Casual Modern Decor
This cheerful red-brown living room wall brightens the room's casual furnishings and decor. Designed as a family room, this open-plan space includes plenty of room for a bicycle, bookshelves and cactus plants. A framed wire plant wall offers space for hanging multiple plants.
A small white chest and reading lamp accent the pristine white door and the pleasing black and white window curtains. On the polished oak-wood flooring, a cream-colored woven rug reinforces the casual farmhouse style. The neutral-toned easy chair with cushions and throw along with the grey leaf-pattern wall prints add natural charm.
Modern Home Office with Chocolate-Brown Wall and Streamlined Decor
This spacious home office design has a stunning dark-chocolate colored wall that serves as a background for the decor. A slim, contemporary grey desk with laptop and reading lamp are ready for work. A pair of open desk shelves below store reference books and other items.
Attractive framed leaf-prints decorate the brown wall, and appealing bamboo paneling adjoins this wall. The modern square sofa and pillow are enhanced by the tall green plant and bamboo paneling behind it. Soft reddish-brown tones of the red-oak flooring align with the room decor in simplistic contemporary style.
Dark Brown Bedroom Wall with Complementary Decor
This creative bedroom decor features a dark brown background wall displaying large white 3D flower cutouts. A cocoa-grey quilt covers the large bed, and soft beige pillows rest against the white headboard. On one side of the bed, a small rounded Asian-style lantern rests on a small white chest.
A tall floor lamp and neutral shade light the opposite side of the bed. The elegant sliding window-wall illuminates the room with refreshing soft sunlight. The vitalizing natural light is gently filtered through sheer white full-length curtains bordered by warm tan-colored drapes.
Modern Brown-Wall Bedroom Design with Green and Grey Accents
The deep brown walls of this bedroom interior encourage a creative palette for decor. The streamlined interior design is ideal for this spacious room, and the use of a few select colors is pleasing. When combined with the stunning sea-green bedspread and soft grey blanket, the sedate walling appears to brighten. Three brass pendant lamps add simple style.
The quilted-style or tufted fabric headboard in sea-foam aqua accents the aqua tones of the white and aqua striped bed pillows. It also brings out a slight aquatint in the grey and white plaid rug. The two white bed stands displaying emerald green-shaded lamps complement the white window frames and radiators. Wall photos and the snowy outdoor scene enhance all.
Open-Plan Living, Dining and Kitchen Area with Elegant Style
This large, luxurious open-plan living space has a soft brown ceiling and wall enhanced by slightly darker grey-brown window curtains. Another wall with a full-length window-wall has deep green floor-length textured drapes embellished with round hanging circular decor. This open floor design includes a living room, dining area and kitchen.
The abstract tile flooring design in brown, tan and white accents the brown wall, coffee table and hardwood kitchen benchtop. The soft blue-grey sofa, grey easy chair and dark green dining room chair upholstery add natural color to the room. The two modern-classic chandeliers with pearl-shaped lights brighten the room with sedate elegance.
Rustic Brown Stone Wall for Brown and White Interior
The rugged beauty of this natural stone wall is the focal point of this inviting living room design. The adjoining wall of windows framed in white admits bright sunlight at one side of the warm, attractive interior. The large brown leather couch with decorative pillows in golden-pumpkin, brown, tan and white offers comfortable relaxation.
The dark brown flooring and oval-shaped coffee table add elements of casual elegance. The free-form cream and beige patterned rug accents the natural qualities of the dynamic rough stone wall. A simple brown and white patterned fabric upholstered chair adds more comfy seating near the stonework's fireplace inset.
Soft Brown Bedroom with Modern Wood Paneling
In this modern bedroom interior, the engaging linear wood paneling behind the double bed creates a serene, Asian-style background. The light wooden paneling with three attached box shelves, bed stands and a brass hanging planter with greenery add brightness.
The attractive grey-brown bedding with multi-tone pillows adds calm, quiet elements of decor. Matching the bedding in color, the area rug is enhanced by the natural-finish of the pinewood flooring. Additional plants, the large 1950s windup clock and the pair of tubular white lights above the bed complete the appealing decor.
Modern Living Room with Dark Brown Walls and Relaxing Decor
As the ideal relaxing and welcoming spacious living room with decor offering comfort and beauty, this interior has immediate appeal. Its rich dark brown walls are framed by white molding, and the white ceiling reflects light from polished hardwood flooring. The large, stunning fireplace has a marble hearth and pristine white surrounds.
Three adjoining open doors at one end of the room offer lovely outdoor views, and arched interior windows display another room. A cream-colored, cushioned couch opposite the fireplace provides relaxation along with a chocolate-colored parlor chair and two brown ottomans. A wooden wagon wheel, two sconce lights and a plant decorate the mantel.
Modern Brown Living Room with Vibrant Decor and Artwork
The light brown wall of this modern living room design displays a square abstract painting in brown, tan, gray and sand hues and shades. On the windowsills of two small high windows bordering the painting are a plant and other small decorative items. The glowing red-oak floor, floor lamp with dark cocoa shade and stunning window view add character.
A large beige leather sectional sofa aligns with two walls and a corner of the room. Sofa pillows in dark brown and striped beige, brown and tan shades add casual accents. A stunning thick light brown and sand-hued marble slab supported by a deep brown wooden base makes a stunning room centerpiece.
Casual-Chic Den Decor with Light Brown Wall
The casual elegance of this attractive den with a light brown wall is pleasing and inviting. The modern minimalist sectional sofa brings simple luxury to the room. Its assortment of brown and beige pillows and a striped throw suggest calm relaxation in surroundings with subtle fashionable flair.
The low square white coffee table displays a decorative white and beige vase with brilliant golden blooms. The lustrous maple-wood flooring and neutral area rug lend warm color and charm to this light, airy interior. A large rounded silver-toned goose-neck lamp extends out over the room from its base between the sofa and window.
Room with Recessed Dark Wood Paneled Wall and Overhead Timber Beams
This modern living room has an attractive recessed dark wood-paneled wall and matching overhead timber beams. This mix of rustic and contemporary decor is stylish and appealing. The deep-cushioned light beige sofa sits neatly on a slim, flat white base.
The white minimalist side table displays a plant with lovely white flowers, a stack of books, and a small white bowl. Across the room, another small white table with more white flowers lends decorative accents. The white tripod with spotlight lamp adds modern appeal, and the medium-brown rug and beige tile flooring lend continuity.