The appearance and ambiance of a living room can be completely changed by the presence of a stylish accent chair. Whether you select a classic brocade armchair, a shabby chic velvet parlor chair, or a molded vinyl bucket seat, it can alter the overall look and feel of your room. Small and compact or large and luxurious, an accent chair can be a powerful element of interior décor.
Choosing the color, pattern or texture of an accent chair fabric or other surface can be challenging, inspiring and fun. If your living room features neutral hues, a dark or vibrant color choice for your chair can add dynamic style. If your room décor offers soft contours and elaborate fabric designs, you may want an accent chair with a firm surface and geometric structure.
Relax and enjoy selecting your living room accent chair since it is easy to replace or use in another room if you want a different fashion statement later on.
Eighteen highly fashionable and functional living room ideas that feature a variety of accent chairs include the following:
Neutral Grey Living Room Interior with Vibrant Yellow Accent Chair
This neutral living room interior with its textured grey concrete walls and light grey floor tiling has stunning color pops. It is brightened and enhanced by vibrant yellow-gold accents, including a bright yellow molded bucket chair. Other colorful features in yellow-gold are a straight-back desk chair, a knit pouf, a pendant lamp, a couch pillow and two framed prints above the grey couch.
Dark grey and black pillows and a deep grey throw decorate the couch and the bright yellow accent chair. A group of beige rugs with black and red accents lend additional color to the room. A black cabinet and shelving unit, a grey table and desk and other small items of décor complete this unique room design.
Modern Living Room with Stone Fireplace and Geometric-Patterned Fabric Chair
This deep beige living room with high vaulted ceilings has a handsome stone fireplace, a light beige couch and matching semi-shag rug. A large wall-mounted mirror and decorative items adorning shelving beside the mantel lend style, and windows of varied sizes and heights admit soft, pleasing sunlight. A large green plant beside the fireplace and a small one on a couch-side tabletop lend natural accents, and the glass-top coffee table offers modern charm.
Decorating the couch are pillows in auburn, beige, light green and bright aqua along with a deep auburn knit throw. Across the room, two dynamic accent chairs with matching black and white geometric fabric designs lend contemporary fashion to this comfortable room. This large, cushioned chairs without arms each display a bright aqua pillow and offer plenty of space for relaxed seating in this attractive setting with its warm, welcoming fireplace.
Modern Scandinavian Living Room in Blue and Cocoa with Mid-century Diamond Chair
This spacious modern living room is decorated in blue and cocoa Scandinavian décor. It features a deep sky-blue diamond style accent chair and a soft cocoa suede couch with beige and cream-hued throw pillows. A large area of the walnut-finish wood flooring is covered by a soft blue rug with white diamond patterning.
The long rectangular coffee table with its elegant white marble top displays three items of grey-white pottery. At one end of the room, sliding glass doors lead to a large open terrace with a scenic tree-lined view. Behind the couch, the adjoining wall's floor-to-ceiling window units expand this panoramic outdoor view, while low white shelving and dark wood paneling opposite the couch emphasize the natural outdoor environment nearby.
Contemporary White Living Room with Aqua Wall and White Bucket Accent Chairs
This inviting white living room interior displays a slim-lined white minimalist style sectional corner couch. Decorated with chocolate, cocoa, grey and white throw pillows, the couch is further enhanced by a pair of cushioned white bucket fabric accent chairs. The antiqued white floorboards lend additional brightness to this unique interior.
The glass window-wall behind the couch displays multiple sections of white Venetian blinds, and white and black floor lamps, a white marble-top coffee table and two white pottery vases complete this eclectic décor.
Cozy Pastel Boho Style Living Room with Vintage Pink Velvet Accent Chair
This cozy, relaxing bohemian style living room displays a comfortable state of artistic clutter. The 1950s style grey couch is decorated with an abundance of large pillows in plain and patterned shades of grey and light beige. One end of the couch is draped with an over-sized fluffy blanket in neutral shades that aligns with the area rug below.
A black vase of pink flowers on the small wooden coffee tabletop aligns with the pink shade of the delightful shabby chic style pink velvet accent chair and a pink and lavender painting on an easel behind the couch. On the wall is a smaller framed pink canvas clustered with various vintage items that include a retro radio, Art Deco items, a small framed black canvas and several framed and wall-mounted plant drawings. A large basket, a wire shelving unit, a mirror, a large green plant and another precariously propped easel lend additional artistic allure to this cozy creative haven.
Simplistic Living Room with Wood Veneer Wall and Handcrafted Accent Chair
Displaying a long slender white couch along a wall of tall windows with white Venetian blinds, this simplistic living room has an adjoining expansive wall with a light-wood veneer finish. This wall is decorated with plain plastic vertical strips in white and yellow-green. A low smooth section of white beaming overhead, a strip of white wall and the wide-plank distressed white flooring brighten and enlarge this spacious room.
The lustrous natural wood coffee tabletop with its shiny thick stainless-steel supports lends a pleasing combination of natural and manufactured beauty. Nearby, the matching handcrafted modular-style wooden easy chair with white cushioning on a slim black pedestal base is stunning. On the tabletop are several glass boxes displaying white decorative items, and a long white shelf beneath the wood-paneled wall exhibits carved white animal sculpture.
Charming Living Room Interior with Comfortable Retro Accent Seating
This spacious living room radiates comfortable relaxation and warmth. The rich blue tufted sofa with its patterned beige and tan pillows and coverlet offers the perfect setting for the reclaimed wood cocktail table and the soft beige rug. The green plant in its rustic wicker basket and the vintage tapestry above the couch in varied shades of brown add dated charm.
The natural beauty of the hardwood flooring and the marble-top freestanding shelf unit displaying vintage books and light blue pottery add decorative allure. Across the room, the large 1950s leather easy chair, retro lamp and small wooden table with latticework sides lend more character and style. As additional accent seating, the large twin retro ottomans with natural beige canvas covers complete the unique décor of this pleasing interior.
Classic Living Room Décor with Traditional French Couch, Chair and Settee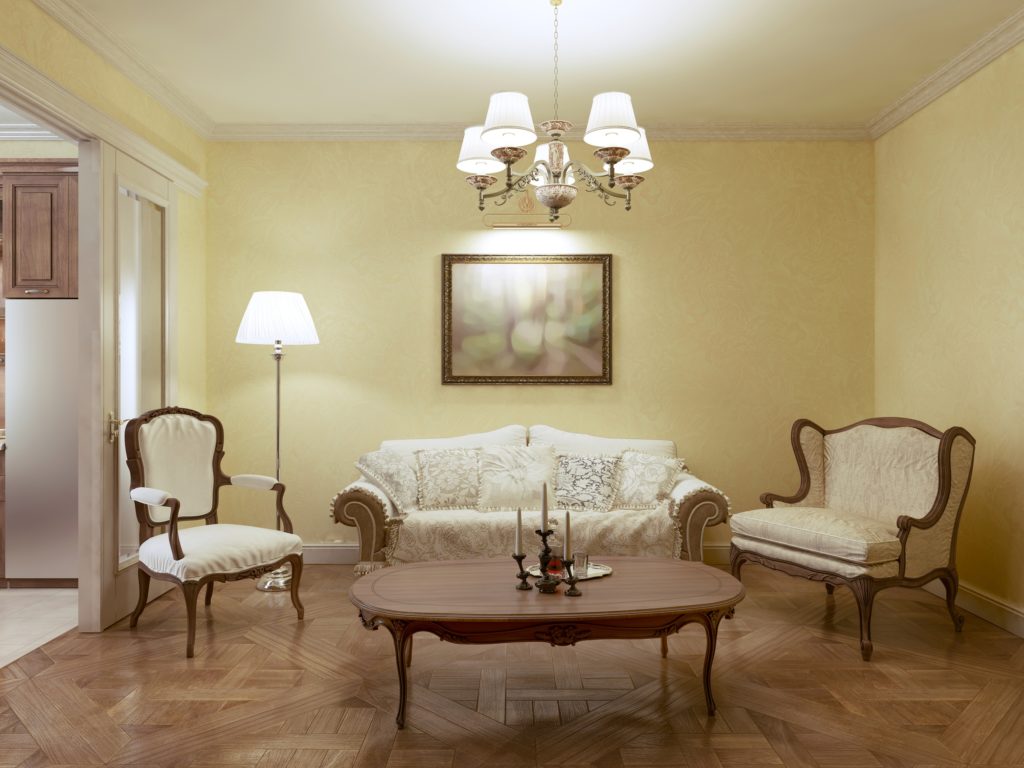 This lovely classic French living room features an antique couch draped in white brocade fabric. It also includes a traditional carved dark wood and white brocade armchair and settee. The matching carved wood central table displays white candles in silver candle holders and a round silver tray with glasses.
The polished parquet flooring and silver-framed wall mirror reflect light from the white-shaded lamp cluster of the chandelier overhead. The light yellow-gold walls and white ceiling of the room lend additional soft ambiance to the quiet charm and elegance of this simple yet ornate antique interior. The single silver-based floor lamp with its luminous white shade offers additional softened brilliance to the classic atmosphere of this stunning room from a distant era.
Cozy Contemporary Living Room with Streamlined Couch and Modified Diamond Chair
This low-key yet cozy and appealing contemporary living room offers a streamlined upholstered couch with pillows and a modified diamond-style molded accent chair, both in charcoal grey. The teal blue patterned rug and low, double-level wooden-top coffee table add pleasing color contrasts. The tall windows and white curtains admit natural brightness to this peaceful interior.
The white walls, shelving and flooring reflect soft light while complementing the darker colors of the furnishings. The books, framed photographs and decorative items on the shelves and arranged on grey storage boxes on the floor give a feeling of casual comfort to the space. Across the room from the chair is a single white rounded pouf that serves as additional accent seating.
Luxurious Living Room with Blue Velvet Furniture and Decorative Gold Accents
This luxurious living room interior features an elegant blue velvet sofa and plush matching parlor chairs as accompanying accents. The central glass-topped coffee and cocktail table also offers a lower shelf covered in blue velvet. The rich dark wood wall paneling embellished with gold décor offers a lavish background.
The gold-framed white panels and elaborate light blue lamplight chandelier add additional decorative enhancements. A pair of maroon-colored lamps with bright white shades accent the couch's maroon pillows and others in a dark grey and blue pattern. A series of small round mini-tables hold glass decanters and other decorative items, and the white ceiling, deep cocoa wall, beige window drapes and patterned light cocoa flooring lend more charming style to the room's décor.
Stylish Retro Living Room with Pink Cushioned Parlor Chair Accents
The rich cocoa-colored walls and rug in this corner living room along with the dark-wood flooring provide a pleasing setting for this attractive décor display. The elegant white couch and square white pillows are accented by two black and white patterned rectangular cushions. At the tall windows, filmy white curtains lend style while admitting natural light, and two dark ceramic lamps with white shades also brighten the room.
The beautiful dark-wood coffee table lends additional elegance and sedate style. On the tabletop, a tray of decorative items further enhances the décor. Two elegant pink cushioned parlor chairs with beautiful dark-wood frames serve as accent chairs with pleasing fashion and flair.
Spacious Open Living Room in Bright Earth Colors with Patterned Easy Chair
This bright, cheerful living room setting with walls in shades of vibrant marigold, tangerine and deep amber has an airy, inviting ambiance. The plaid couch in soft yellow, orange and white is enhanced by the bright yellow-gold top of the white wooden coffee table on a cocoa-hued rug. A large, well-cushioned upholstered easy chair in plush 1950s style and a second white wicker accent chair with yellow and white striped cushioning complete this welcoming seating area.
In the nearby wall is a built-in fireplace lending warmth and charm, and beyond this seating area is a sizable wet bar. An abundance of windows admits outdoor light and provides scenic beauty. An ornately carved wooden desk and matching desk chair across the room lend more elegant style, and the high white ceiling is decorated with ceiling fans and long rectangular white light fixtures.
Modern Living Room with Vaulted Ceiling, Slanting Windows and Accent Ottoman
This bright white modern living room has a vaulted ceiling and a wall with two rows of tall windows. The upper row is stylishly slanted inward in dormer fashion. Beneath these windows is a large contemporary-style corner sofa in white with pillow clusters in white, grey and mustard.
A low white coffee table with a glass top displays a potted plant and books, glowing in reflected light from the sun on light-wood flooring. A larger floor plant in a white pot adds natural warmth, and a pair of high wall-mounted shelves display framed photos and decorative pottery in mustard, white and clay colors. On the other side of the coffee table, a large square white ottoman that matches the couch offers accent seating.
White and Grey Living Room with Folding Violet Accent Chairs
This minimalist style white modern living room interior with a grey accent wall has a stunning white sofa with a plate of fruit and a bright gold coverlet as decoration. The sturdy build of the small, compact sofa is offset somewhat by a slender tripod-style lamp with a simple white shade behind the couch, and the white floor displays a small white shag rug.
A decorative lavender and white patterned pillow is propped on a surface behind the couch, and the lavender is repeated in a few brushstrokes of added color on the grey wall. A small patch of white paint strokes is also visible near a corner of the wall. Across the room, two bright lavender folding chairs add fashionable charm to the room, and a simplistic lavender clock design sits on a plain white tabletop between them.
Contemporary Scandinavian Living Room with Cushioned Easy Chair
This appealing contemporary Scandinavian living room décor offers light grey walls with white woodwork and trim. It features a rich cocoa-colored couch with grey and white decorative pillows and a large round dark-wood coffee table. On the tabletop is a deep brown pottery vase displaying tall branches of dried flowers.
Across from the couch is a large cushioned easy chair in deep beige that complements this pleasing neutral-toned interior. The wide-plank light-wood flooring, neutral woven rug, dark brown wall displays and wood-framed drawing lend subtle stylistic accents along with the brown goose-neck lamp and pendant light. The empty distressed-white picture frame on the wall and the small light-wood desk with its clock and books add brighter elements of décor to this attractive neutral setting.
Elegant Navy Living Room Sofa with Stylish Rug and Delicate Diamond Chair
With soft natural lighting from tall windows, this attractive modern living room features a stunning lightly tufted navy sofa with textured silver-grey pillows. The light grey tile floor is enhanced by a fashionable area rug displaying a dynamic and decorative geometric design in blue-grey and white. The pair of gold open metal-work cylindrical side tables with white marble tops feature a clear glass lamp with a light beige shade and a potted green plant.
The elegant modified diamond-shaped accent chair has gold metal open frame-work that matches the side tables and a slim floor lamp behind the sofa. The chair's rounded back and slender legs in combination with its delicate design offer a pleasing touch of East Asian décor to the room. On the grey wall beyond the couch, three abstract paintings in pastel shades add to the light ambiance of this interior.
Modern Cottage Living Room with Green Bench and Cushioned Metal-Framed Chairs
This charming modern minimalist cottage living room includes a long molded spring-green bench against one wall with matching slender rectangular wall cabinets above. In the center of the room is a simple seating area featuring a low modular coffee table displaying tall glasses and white pottery. Three white smooth-cushioned chairs surround the table.
These appealing accent chairs have sturdy yet stylish silver metal frames and arms. Both the white table and chairs are set off by the gray tile flooring beneath them. High in the wall above the green bench and in the opposite wall are two pairs of skylight-windows displaying outdoor treetops and foliage. Two doors to the left of the seating area with a tall green plant between them lead outdoors to a wooden-fenced garden.
Large Living Room with Dark Red Leather Couch and Wicker Wing-Back Chair
This large modern living room has an open-plan design that leads into a spacious bar area at the back. It features a few dynamic items of décor, including a dark red leather couch with deep beige pillows. In front of the couch is a beautiful pinewood chest that serves as a coffee table. On the chest top is a decorative grey urn holding a full-leafed plant with white blooms.
Lustrous pinewood floor-to-ceiling console shelving with drawers lines the wall across from the couch. At the far end, a matching table extension is paired with a large dark grey wicker wing-back accent chair. The light beige carpeting and rich cocoa-colored walls complement the bar area that is trimmed in white. A white ceiling fan and recessed ceiling lights add soft charm and allure to this open, appealing interior.