If you enjoy being out in nature, you can create a natural bedroom with the right décor and furniture. Having a large bedroom with beautiful scenery to look at on clear, sunny days can help, too.
Create a natural bedroom space with wood furniture, white décor, houseplants, and other natural features. Here are 25 nature bedroom ideas to bring the great outdoors into your home.
Airy Bedroom
Sheer white curtains are pulled back to allow beautiful sunshine into this nature-based room. The natural light, neutral colors, and houseplants all give an outdoor feel to this cozy bedroom.
The natural wood floors, wood on the chair legs, wood pots, and wood tray on the bed remind one of huge trees in a forest. A variety of different types of houseplants decorate the room in natural colored pots.
The black and white photo above the bed, and the bed itself are also neutral colored with a light gray comforter and cream blanket.
White and Gray Bedroom
The white walls, floors, and other white parts of this bedroom make it appear larger than it is. Wood features on the side tables, bench, bed, and chair give a natural feel to the bedroom. The various houseplants also add life and color to this beautiful nature-based bedroom.
Tall, sheer white curtains add drama and dimension to this bedroom. They also allow for some sunlight and privacy into the room. A hammock is a great place to relax and read during the day with its outdoorsy look and feel.
Blue Wall Bedroom
The ethnic-inspired room has a mix of natural elements against a dark blue wall as contrast with the light and natural colors found in this bedroom. Woven pieces of bamboo in geometric patterns are used as the head and footboard of the bed.
The beautifully woven bedside table, lamp, and plant pots create a bohemian look to this bedroom. Dark, wood floors and the dark blue wall are a great contrast with the light and natural elements in this nature-inspired bedroom.
Green Bedroom
The green floral bedspread, greenery artwork, and palm trees all give a sense of the outdoors to this bedroom, along with the wood furniture. The white floors and white walls keep the focus on the nature-like bed and other natural elements in the room.
Sheer, white curtains are a great contrast with the dark green shade curtains. The shade curtains add some style and color, while the sheer curtains allow for some natural sunlight with privacy.
The green plants and artwork, wood furniture and white space give a sense of nature in this bedroom.
Bohemian Bedroom
This bedroom combines nature with bohemian for a unique living space. The oranges, browns, and greens create a sense of being outside. The rough, white walls create an urban and outdoor feel as well.
The natural wood floors are also a great way to celebrate nature in this bedroom. The bright yellows and oranges on the bedsheets and pillows are balanced by the decorative hats on the wall and hanging tent above the woven chair.
The woven rug and houseplants also add a nice touch of the outdoors in this bedroom.
Nature Wall Bedroom
This nature-inspired bedroom seems to come alive with many houseplants. The colorful hanging print of birds and plants on the wall also add to this lively bedroom. Wood and white elements keep the space looking natural.
The blue blanket on the bed and colorful print on the wall add some color to this natural space. The light orange and white shades on the hanging lights balance with the wood and white in the room nicely.
The sunlight coming in through the curtains brightens the white in the room, creating a spacious sense with the natural elements.
Wood Bedroom
Wood furniture, bright natural light, neutral colors, and houseplants make up this nature themed bedroom. The white walls, floors, and white, round rug open up the space, along with the light coming from outside.
The beautiful wood headboard, side tables, wrap around shelves, and wood planters are all inspired by the woodlands of nature. The wood blinds and wood details on the hanging lights are a nice touch.
The neutral colored sheets and pillows, as well as the beautiful houseplants all over the room, also add a nice touch of nature.
White and Green Bedroom
Houseplants and neutral colors make up this nature like bedroom. The plain, white walls are decorated with tiny succulents in white pots on unique hexagon-shaped shelves. Bright, green ivy hangs down from a crate attached to the wall to give a jungle feel to the space.
The cream comforter and pillows, tan blanket, and dark wood planters on the right also pay homage to nature with their colors and materials. The bright white stool with small snake plant are also another addition to create a sense of nature in this bedroom.
Large Windows Bedroom
Huge, white columns surround the wall-length windows in this nature like bedroom. The wooden lattice painted white behind the bed also creates a sense of height and space in the room. All you need to do is look out of the huge windows to feel at one with nature.
The beautiful light wood headboards, bedframe, bedside tables, and window bench also create a natural feeling space. The white rug on the light wood floors is a great contrast of light and shadow in this beautiful bedroom.
Green Plants Bedroom
Nature can be seen and felt in this room with the houseplant, leaf prints on the wall, dark green chair, and leaf-covered bedspread and pillows. Some wood details on the furniture and white space allow for an open sense of the outdoors.
Natural sunlight can create a larger space during the day, with some privacy. The light also brightens the white walls and floors, creating a bedroom that feels larger than it is.
The green leaves on the bed, walls, and green cushions on the chair create a forest feel in this bedroom.
Arch Window Nature Bedroom
The beautiful arched windows add interesting shape and design to this nature-inspired bedroom. The pipes, weathered walls and columns suggest that this bedroom is in an older home. The weathered walls give this room a farmhouse look.
The tan blanket and pillows on the bed blend in with the walls. The tan rug, wood table and plant stand all pay homage to trees found in nature. The small houseplants are a great way to bring in nature to this rustic bedroom.
The light from the window accentuates the soft, neutral colors seen in this space.
Bright Windows Nature Bedroom
Bright light coming in from the window lightens and enlarges this nature like bedroom. Soft, gray blankets and pillows darken the space. The white curtains and walls brighten up the space to balance with the dark parts of this bedroom.
The beautiful herringbone designed wood flooring and wood bedside table is a great way to bring nature into this bedroom, along with the beautiful plants in natural white and glass vases.
Several wood-framed pictures and a tall mirror add some shapes and interest to the white walls.
Neutral Nature Bedroom
Neutral browns and creams make up this natural-looking bedroom. Wood planks in various lengths and widths create an abstract looking headboard behind cream and brown pillows on the bed. The light brown blanket that is neatly folded at the foot of the bed is a great way to add some color to the all-white comforter.
A brown lamp with a tan shade is a great way to add some light on dark days and nights. The windows are bordered by dark tan curtains with sheer white curtains in the middle to allow for sunlight and some privacy during the day.
Green Pillows Nature Bedroom
The green vines growing up the slatted wood frame with ropes is a unique way to create and earthy headboard. Green pillows and houseplants allow for a natural space, as well as the tan and cream colors found throughout this bedroom.
The tan rug seems to melt into the beautiful wood floors. A basket made of bamboo contains several extra pillows in tan for guests. A hammock hangs near the window so that views of nature can be enjoyed while relaxing from this outdoorsy bedroom.
Bohemian Nature Bedroom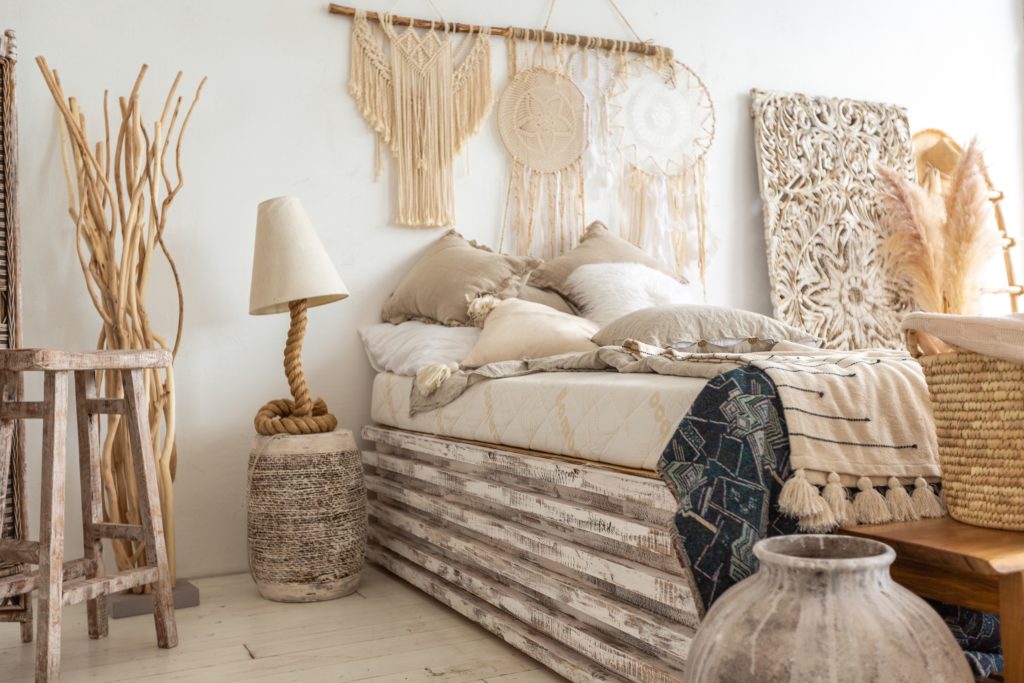 Suncatchers and tassels, combined with neutral colors, create a natural looking bohemian bedroom. Weathered wood decorates the side of the bed, a large vase, and the stool next to the bed. The lamp next to the bed is made of natural rope for a unique look.
Tasseled pieces of art and suncatchers decorate the white wall above the bed. Cream and white pillows add décor to the top of the bed, as well as various blankets on the other side.
Natural sunlight coming in from the window brightens up this bohemian and natural bedroom, making it bright and larger than it is.
Plant Prints
Hang these botanical prints in your nature inspired bedroom. Each print is a watercolor rendition of eucalyptus leaves and other green plants found in nature. These come unframed, so that you can pick wood or other natural based frame to match the rest of your room with.
Each poster print is 8 by 10 inches, so they will fit a variety of walls. Bunche the pictures together in rows of three, line them up to make the wall longer, or spread them out on various walls.
Grassy Green Rug
This grassy looking rug will look great in a neutral colored bedroom. Place on a wood or tiled floor to make it stand out. Make sure there are plenty of other green décor, including houseplants to add some life to your living space.
This rug is four by four feet, so it will fit into plenty of spaces and corners of your bedroom. The dots on the back keep this rug slip resistant, so that kids and dogs won't fall and hurt themselves while playing around the rug.
Floating Mountain Shelf
This unique floating shelf reminds me of tall mountain peaks. Add some small houseplants and succulents on the shelf for a beautiful display of nature. Purchase several of these shelves to create a mountain like scene on one of your bedroom walls.
Pair up with other dark wood furniture pieces, such as a bed headboard, side table, or desk. When dirty, just clean with a mildly made cleaner and soft cloth to keep it looking brand new.
Birch Tree Wall Decals
Create a forest in your bedroom, guest room, or child's room with these birch tree wall decals. Each set comes with several trunks and leaves that you can rearrange any way you like on the wall or walls of your choice. Purchase several to create a birch tree forest in the bedroom.
Just peel and stick these decals on a flat wall surface. These can be removed and placed elsewhere and don't leave a sticky residue behind on the wall.
Dreamcatcher
Add this beautiful floral dreamcatcher to a natural themed bedroom. Faux flowers and leaves decorate the ring at the top. A vine with macramé fringe hangs below for a beautiful and natural look to your bedroom wall.
This is a great way to add some color to a neutral bedroom. Each dreamcatcher easily hangs from a ribbon loop at the top.
Mushroom Nightlight
This fun nightlight would be perfect in a nature themed child's room. Three mushrooms and leaves appear to grow out of the plug from the top. When plugged in, each mushroom glows in a different color.
This LED color changing mushroom nightlight is a great décor addition during the day. Children and adults will love how it changes colors at night when lit up.
Succulent Canvas Art
Add these gorgeous succulent wall art pieces to a nature based bedroom done in soft greens. Mix and match with real succulents in the room. Add soft, green blankets and other décor in green and tan for a natural looking room.
Place these succulent art canvas pieces side by side to make a longer piece of artwork, place in a square pattern, or display with other natural looking pieces of art.
Leaf Curtains
Bring some of nature indoors with these beautiful leaf curtains. Leaves painted in various shades of green are done in watercolor all over these curtains. Dress up the windows in your nature themed room with these.
Add faux vines, houseplants, and other green décor to complete the look in your bedroom. Each set of curtains come in different sizes to fit various sized windows.
Flower Prints
Dress up the walls in your nature bedroom with these vintage flower art prints. Each print comes unframed, so that you can purchase a frame to match the rest of the room. Purchase frames made in light wood to enhance the natural look of your room.
Each print shows different images of roses and other flowers created in watercolors. Place on the same wall, or hang up on several walls to create an indoor floral paradise.
Faux Plants
These fake plants are perfect for those who want to add plants to their nature themed bedroom, but don't have a green thumb. These two grass like plants are displayed in unique, round, earth toned pots.
These are small enough to place on a windowsill, bedside table, or shelf in your natural bedroom. Purchase several sets to create an indoor natural paradise.