Brown couches come in all sizes and color tones, from warm chestnut hues to dark walnut shades. An ordinary brown sofa can be enhanced by adding some gorgeous throw or accent pillows.
Here are some of my favorite pillows that look fantastic on brown couches of every design style. Remember, you don't necessarily have to have brown in the pillows to create a coordinated color combination.
Take advantage of different textures and shapes that can give pillows more design versatility. This is a low-cost, fun and fast way to change-up a décor style when desired.
Muted Brick, Gold, Mushroom & Lighter Beige Throw Couch Pillows
The dark brown leather couch gets a touch of glam with four multi-hued muted throw pillows in brick, gold, mushroom and lighter beige tones. These shades keep the overall aesthetic still within neutral colors.
The luxurious fabrics on the pillows offer just a hint of elegance without being over-the-top. The colors still provide an attractive contrast.
Cheerful Yellow Scatter Pillow Looks Stunning Next to a Caramel Brown Tufted Upholstered Couch
This retro caramel brown leather couch boasts tufted upholstery detailing and curved lines so prevalent in mid-century design style. This bright and cheerful scatter pillow looks terrific against the soft leather brown shade.
It is simplistic, yet still very stylish at the same time. Limiting the number of pillows lets the magnificent upholstery textures make their own statement in a delightful and tasteful manner.
Large Pair of Tie-Dye-Inspired Throw Pillow with Black, Golden-Tan & Mauve Pink Shades
Easy home interior design style takes advantage of today's penchant for all things tie-dye. Unlike the very bright neon hues that the original tie-dye fabrics tended to display in years past, this throw pillow has an almost artistic and classic design.
The effect is a more subtle color pattern ideal against the mid-tan-brown shades seen here. Pair the pillow with an all dark charcoal pillow for additional drama that still remains refined.
Timeless Leather Retro-Styled Rich Walnut Color Sofa & Large Square Butterscotch & Walnut-Hued Pillows
The simple and stunning retro upholstered walnut-hued couch features brass studs along the leather sofa arms. Try adding a lighter yet rich butterscotch pillow alternating with a walnut-shaded pillow that matches the couch.
This is an undeniably classic look that is timeless. Allow the leather grain patterns and ultra-luxurious hues do the talking.
Pair of Plush Old-World Patterned Pillows in Golden-Beige Nautical-Inspired Design Offers Comfortable Class
Lovely pair of plush pillows features an old-world geometric pattern of circles and squares in golden-beige and hints of dark-grey-blue for a look that's reminiscent of a rich sea-captain's office in times past.
The luscious grained patterns seen in the mid-century modern couch are perfectly repeated in the golden-tones of the throw pillows. The result is understated wealth and comfort luxury all-at-once.
Casual Country Meets Classic Urban-Chic Plaid Featuring Scattered Throw & Bolster Cushions
Rich apricot tones of this ultra-comfy couch are showcased by the smattering of various sized back pillows and rectangular bolster cushions. The crisp natural-linen fabric of the pillows melds perfectly into a subdued plaid design aligned in a tasteful repeating pattern.
These pillows look fantastic next to authentic wooden, metal or glass furnishings for outstanding style versatility.
Beautiful Coffee-Brown Sofa Seat & Back Showcased by Creamy Ivory Frame Details Featuring two Bolster Pillows & two Square Patterned Throws
Beautiful square-patterned throw pillows pick-up complementary color tones that are well-suited against the lush coffee-hued sofa back and seat. Ivory upholstery fabric is textured in a diamond pattern on outer sides and across the couch bottom edge.
These pillow choices are the perfect accent, and this setting can blend with both casual and upscale design themes. The striking color contrast is truly elegant and unique.
Pair of Silken Peachy Hued Pillows with Dark Toffee-Brown Velvet Couch in a Contemporary Design That's Gorgeous
Sofa arrangement that's ideal for contemporary design themes. The soft velvet upholstery in a deep toffee-brown hue looks stunning when a silken fabric accent pillow in a welcoming peach shade is added.
This design would look beautiful in any home interior design. The luscious material details offer an elegant touch that keeps this design relevant in all seasons.
Striped Luxurious Pillows in Brown Tones Create a Welcoming Place to Sit
Transform this otherwise ordinary brown couch into a welcoming place to sit just by scattering some striped pillows of mixed sizes crafted of satin fabric. The result is a bit eclectic in a fun and comfortable way.
Creamy ivory, rich butternut beige and dark chestnut hues are reminiscent of handsome hotel décor of bygone days. This seat is just right for quiet conversations or reading a good book on a cold chilly night.
Shabby-Chic Eclectic Collection of Large Slate-Grey Pillows with Math Equations Printed in White with Yellow Accents
If you're searching for a fun and comfy design style for your den, home office or man cave, consider this shabby-chic eclectic collection of large oversized pillows in slate-grey with math equations scribbled in white across the fabric. The unexpected yellow arrows accent the other colors to complete the look.
This is an easy and laid-back style that is easy to do. Add a stone coffee table top or lamp base and some minimal care green plants. This couch would actually make a good teacher's break-room addition that'll brighten up any teacher's day.
Brightly-Colored Mix of Mid-West Aztec-Inspired Designer Throw Pillows in Vivid Desert Shades
Gorgeous sofa throw pillows add that dash of flair and drama that is the essence of desert old-west styles popular today. The vivid oranges, turquoise-blues, yellows and brick-red hues offer a splash of color and joyfulness into the room.
The authentic Native American patterns depict the beauty of rich tapestries and textures. Pair these pillows with a colorful woven afghan throw for a welcoming design that instantly feels warm and cozy.
Bring a Touch of Nature Indoors with These Refreshing Green Geometric-Patterned Pillows That Transforms an Ordinary Brown Couch & Chair Into Extraordinary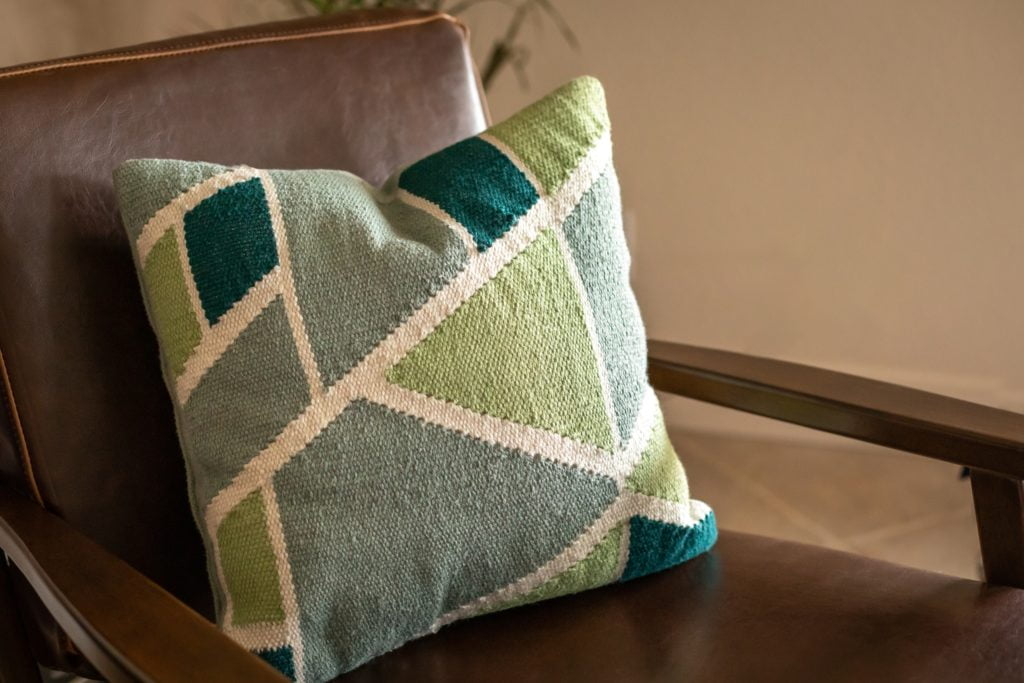 It is not necessary to follow strict color combination rules that were set in stone not long ago. Today's interior design color combos are mixing layers of same color shades with not-so-ordinary furniture pieces.
I love this design that brings a wave of freshness and nature inside. The textured pillow boasts a geometric pattern that blends several green shades with natural ivory. The pillow looks right at home next to an otherwise ordinary furniture setting.
Brown Tones Are the New Neutral Featured with Traditional Hued Pillows in Smoky Gray & White Toned Bold Geometric Designs
As seen in this photo, the new neutral doesn't have to only refer to boring blacks or overdone whites. Try this luscious shade of butterscotch decorated with a few different geometric shape patterns and wavy lines in smoky greys, muted blacks and white accents.
This is a gorgeous way to update your living room without having to give up your beloved modern furniture lines in the process. Adding the warm-toned butterscotch hue of the couch immediately creates a warm and inviting atmosphere that is still ultra-sleek and modern.
Deep Blue Pillow with Texture Trim Showcases an Amber Toned Couch in a Modern Design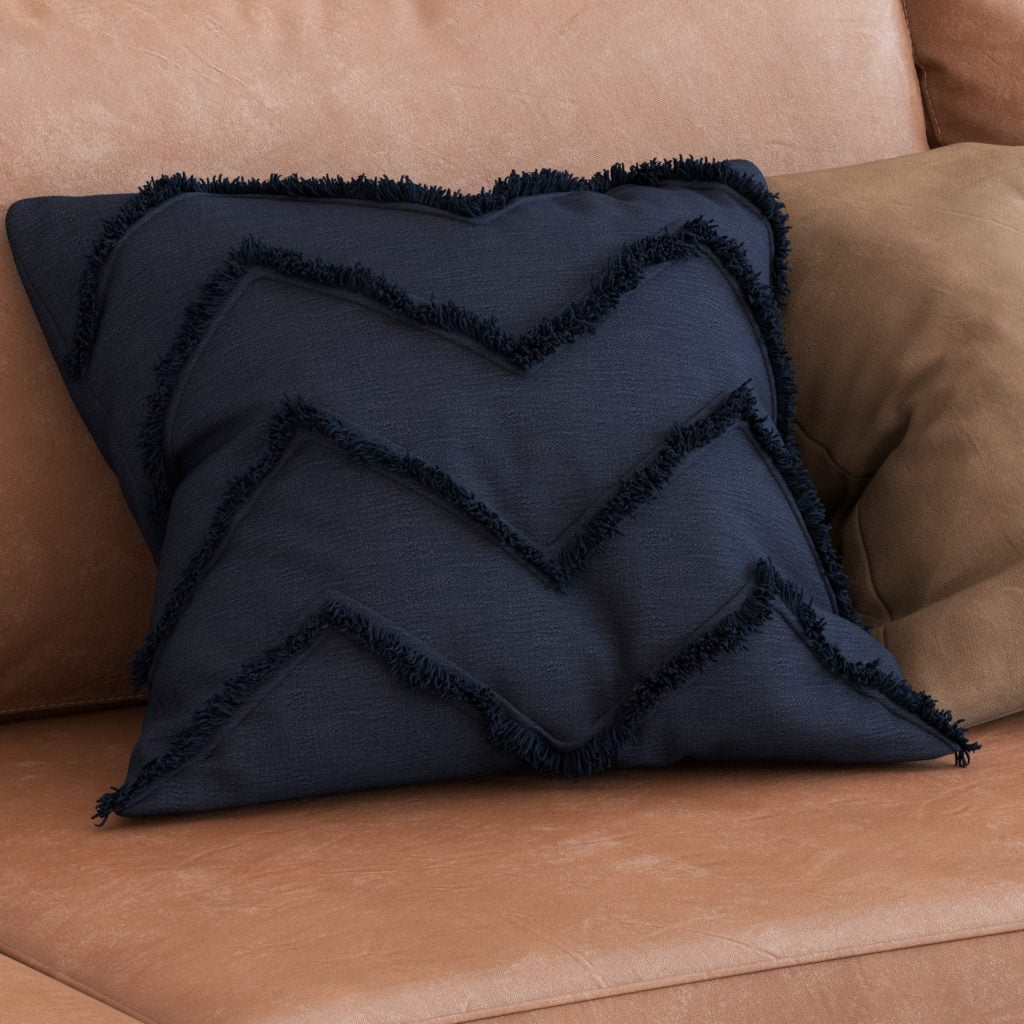 This navy blue enlarged pillow features a texturized fringe trim detail. Set against the amber dark-apricot hue of this richly upholstered couch, this accent pillow makes an elegant statement without being too loud or dramatic.
The modern design lines of this couch blend effortlessly with this attractive color combination. The deeper tones of this stylish pillow adds a touch of class and elegance into the space that immediately draws the eye and sets a subdued yet cozy design theme.
Gorgeous Velvet Pillows & Blanket Throw in Icy Aqua Shade Wakes-Up a Tired Design Instantly
Impressive and overly large velvet pillows provide a rush of cool breezy color with the gorgeous icy aqua shade that simply pops against the brown sofa background. Add a matching aqua afghan throw to complete the look.
This sofa now appears to beckon one over to lounge awhile. Reading glasses and a favorite coffee mug make this an ideal reading nook on rainy afternoons or snowy evenings.
Easy Comfort Accent Pillows Soften-Up a Couch Back in a Homespun Pyramid Quilted Pattern of Tan, White & Pale-Pink Hues
Go with a style choice that feels easy and cozy. The larger accent pillows are clearly soft and comfortable. The understated quilted pattern is crafted in muted hues of tan, white and pale blush to pink shade.
This is truly a lovely look that adds just the right touch of feminine warmth without being fussy or too busy. Use these pillows in your living room or on the patio atop your outdoor sofa sectional.
Add a Touch of Romance with Beautiful Lavender & Rose Accent Pillows and Soft Blanket Throw
If looking to add a bit of romance to your living room, consider adding something soft and feminine like a soft, warm throw in a purple haze hue and lavender and rose accent throw pillows.
The plush velvety fabric against a silky satin pillowcase adds just the right mood ambiance for cuddling up with your special someone before a roaring fire on a cold night. Who says that pastel purples don't go with brown?
Large Couch Pillow Featuring Bold Western-Style Pattern in Orange, Bronze & Golden Amber Hues
Try this fun decorating idea that can instantly add a bit of drama and bold style into an otherwise sedate environment. Try adding a vibrant patterned accent pillow that features bright sunshine colors like orange, bronze and golden amber hues.
These lighter and brighter hues are buffered by the repeating sofa color blended right into the pillow's punchy pattern of eclectic rectangles. This pillow design option is perfect for office, home or outdoor design themes.
Larger Overstuffed Striped Couch Pillows in Grey & White Shades
Although gold is a popular warm accent color for interior design spaces, it is also possible to utilize silver accents even paired with warm ginger brown hues like this corner sofa. Silver inserts a cool vibe into the room, and it can also give the room a more elegant and elevated design result.
Try throwing a few overly large stuffed pillows onto the couch that boast contrasting grey and creamy ivory hues in stripes or as an appliqued feature. Repeat the soft grey hue and texture in an added blanket throw and worked into an area rug design pattern.
Rich Mahogany Brown Couch with Green, Grey & Burnt Orange Accent Pillows Made of Plush Velvet That is Color-Coordinated in a Set-of-Three
Dark and rich mahogany brown couch made of expensive leather immediately portrays classic styling that is always relevant and timeless. Ramp-up the elevated design impact by scattering a few luxurious velvet throw pillows in a set-of-three.
Keep the overall design color-coordinated by featuring three pillows each with a different beautiful color like jewel-tone emerald green, earthy dark red and smoky dark charcoal. The dark earthy tones blend well with natural brick walls and authentic hardwood floors and furnishings.
Round Grey/Pink/Beige/Black Velvet Pillows Spice-Up a Ginger-Brown Couch Deliciously
Take a typical velour fabric sofa and add a whisper of feminine charm. It's easy to do, and it takes very little effort to create this nostalgic design. Simply add round grey, pink, beige and black velvety soft pillows to spice-up a ginger-brown couch deliciously and of course tastefully.
Add a cozy textured dark charcoal grey blanket and a grey area rug to complete the enchanting effect. This design idea could work in almost any environment.
Colorful Apple-Green Pillows with Coordinating Striped Squares Melded with Solid Green Look Fresh & New Next to a Buttery Tan-Brown Sofa
Colorful square-shaped pillows are a refreshing décor change that includes coordinating striped squares melded effortlessly with solid apple-green squares. These pillows feature a flirty-green tassel-tie in the center of each cushion.
The springtime green shade looks like a breath of fresh air placed next to a buttery tan sofa. Try positioning them on their points, making them diamond-shaped for added style emphasis.
Retro-Styled Couch in Bark Hue Gets Trendy by Adding Large Square Center-Tufted Pillows in Muted Peach & Natural Beige Colors
Rustic-inspired retro-styled couch boasting a natural bark-mushroom hue gets suddenly trendy by the addition of two larger square center-tufted pillows in muted colors of pale peach and natural beige. These pillows retain the nature-inspired décor theme and would look phenomenal on porch or patio furniture too.
Mix of Various Accent Pillows in Sage Green, Blue, White/Gold Geometric, Textured Striped Bolster & Brown
Mixing together different accent pillows can lighten-up a dreary space using textures and colors that don't always have to match. Consider this grouping of sage green, blue, white and gold pillows with a textured striped bolster cushion in brown.
Rich Tan Waffled-Texture Pillows Offer a Comfy Spot to Rest Awhile
Inspired by cozy bookstores and coffee-shops, these larger-sized rich tan pillows feature a soft waffle-texture that feels wonderful to rest against after a stressful day. A darker chocolate hue is ideal for a contrast detail that feels true and honest.