Red is the most intense hue in the entire color spectrum. Red evokes excitement, movement, energy, passion and action. Viewing the color red can raise your blood pressure and your heart rate.
Red is often used as a visual call-to-action in stores and on websites to encourage product purchases. Many online video play buttons are red to compel site users to watch these visual ads, performances and presentations. Red also elicits feelings of happiness and well-being and is often used in producing children's toys, books and other items.
If you have a red couch at home, it will undoubtedly become the most popular sitting and lounging spot in the house.
Colors and styles of throw pillows that are ideal for decorating and enhancing your stunning red sofa include the following:
Sophisticated Modern Interior with Red Sectional Couch and Drapes
This low, attractive modern sectional sofa makes the perfect bright yet sophisticated corner couch. Complemented by matching red floor-length window drapes, this vibrant red is further accented by a central designer artwork design. Suspended from the ceiling, this creative mobile displays a colorful arrangement of connected red balls.
Two red and three orange throw pillows decorate the couch, creating a bright, warm interior setting. The dark walnut flooring, light grey semi-shag rug, tripod lamp with its black shade, low coffee table with red flowers and a small side table with a green plant add simplistic décor. On the wall, the painting of a nighttime cityscape emphasizes this room's pleasing sophistication.
Bright Red Couch with White Pillow Against Rustic Brick Wall
This well-cushioned, comfortable couch in bright red displays a single white throw pillow. Beside the couch is a large contemporary tripod-style floor lamp with a slender black frame and deep molded white shade. Set against a rustic brick wall, this charming living room scene has a relaxed boho style and atmosphere.
The wide-plank oak-wood floor accents the rustic, bohemian style of this inviting room. Equally pleasing as a city apartment living room or a farmhouse-style den in a vintage home, this interior offers a warm, welcoming feeling. On the floor near the couch, a woven basket, flower pot and two glass bottles display plants and dried reeds.
Long Red Couch with Dark Pillows Against Textured White Wall
This long and low modern red couch is adorned with a black and grey pillow at each end. The crisp color contrast between the sofa and pillows is striking and stylish. On the white textured wall with hints of grey, three red canvases and another in black exhibit solid monochrome hues that match the couch and pillow colors.
On the floor beside the couch, two simply designed vases, one red and one black, mirror the dynamic colors that define this unique room décor. Between these two vases is a tall slim vase in white that aligns with the textured white wall. The grey tile flooring has four white tile insets that enhance this appealing interior design.
Sleek Contemporary Red Leather Sofa with Grey Pillows and Wooden Bookcase
Decorated with grey throw pillows, this sleek contemporary sofa in red leather creates a bright, enlivened interior. The light grey wall behind the sofa with its simplistic clock display offers a pleasing minimalist background. Beside the sofa, horizontal and vertical wooden bookshelf units are filled with books and decorative items.
Nearby, a single red cube serves as a small table, aligning with the simple style of the tall floor lamp with its red shade on the other side of the couch. The soft white area rug bordered in light brown is attractive against the rustic, industrial-style wood-plank flooring. Natural light from the tall glass door-window lends soft illumination.
Long Red Sofa Before Soft Aqua Wall with White Pillow Clusters
This streamlined long red leather sofa in front of a soft aqua wall offers pleasing contemporary living-room fashion. Its abundance of fluffy white pillow clusters enhances the sofa's red color while balancing the strong color contrast in this room. The long lines of the sofa bring horizontal emphasis to offset the high ceiling of this interior.
At one end of the couch, the large glass bulb-shaped vase with its tall green branch complements the rounded design of the cocoa-colored lamp at the opposite end of the sofa. The lamp's white shade aligns with the white sofa pillows. The light distressed-grey finish of the small chest, which displays this lamp complements the light-grey wide-board flooring that lends a touch of vintage charm to the room.
Comfortable Modern Red Couch with Plants and Decorative Pillows
In this well-lit modern living room, the bright red couch has a fresh, red-orange glow. Surrounded on one side by a garden of healthy indoor plants, it offers a welcoming place for calm relaxation. On the couch are two throw pillows, one in smokey light blue and the other displaying light orange and white stripes.
At the other end of the sofa, a small pinewood table with a round black top displays a decorative cylindrical birdcage with a grey and white bird. The soft-white wall and goose-neck lamp, light grey tile flooring and pale-grey rug absorb and reflect the bright light that enlivens this cheerful interior.
Shiny Red Sofa with Pillow Décor in Modern Living Room
As the central feature in this simplistic modern living room design, the shiny red leather sofa lends streamlined glamour. Its two decorative throw pillows with detailed leaf designs in red and dark grey add vibrant accents. The sofa's slim stainless steel supportive frame aligns with the coffee table's sturdy design, softened by its smooth glass top.
Red, grey and white pottery items displayed on the table accentuate the colorful couch and its pillow décor. A soft, low-nap charcoal-hued rug lends depth and warm style. The room's white walls and the cocoa-toned floor tiling define the space while acting as neutral backgrounds for this bright interior layout.
Valentine's Room Design with Red Couch, Decorative Pillows and Stylish Décor
This attractive Valentine's room décor features a red couch and throw pillows with a red and cocoa-colored leaf pattern. Framed by a large window with sheer white-lace curtains and bordering red drapes, the sofa is the perfect setting for a Valentine's Day celebration. The white and tan-striped coverlet with tassels lends style and warmth.
The white coffee table with two red wine glasses and a Valentine's Day card along with silver and red party service lend uplifting style that is accented by the red bowl-shaped pendant lamp above. Red flowers, candles and other decorative items on a silver and white table and a white shelf unit beside the sofa offer additional holiday spirit in this bright white-walled room. The white floor and rug are decorated with pink and white balloons, a fluffy grey pouf and a red gift box with pink ribbons.
Luxury Outdoor Patio Waterside Room with Red Couch and Colorful Pillows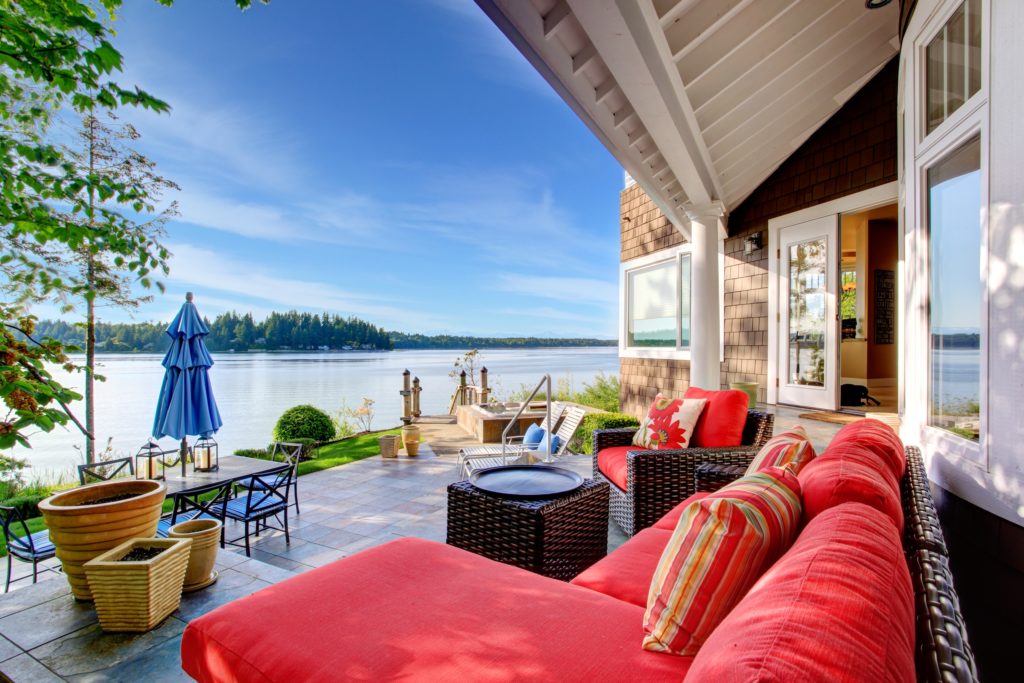 This stunning outdoor home patio scene offers a luxurious waterside living space and view to be enjoyed while relaxing on a deep-cushioned red couch with a wicker frame. The couch throw pillows in red, orange and beige stripes enhance the bright, panoramic setting.
Set beneath a strong, protective adjustable awning, this lavish couch with matching chair, wicker cube table, urns and trees offer a delightful venue for relaxation. The dark slate patio tiling offers plenty of space for a large table with chairs, lantern candles and an umbrella. A wooden dock area with a stylish railing offers more scenic charm.
Stylish Red Corner Couch with Colorful Pillows in a Modern Interior
This stylish modern red suede corner couch is adorned with clusters of red, green and gray pillows and a textured knit grey coverlet. The round brass coffee table with books and neutral-toned pottery and the abstract painting in shades of grey and red-orange above the couch accent the room's attractive color scheme. The red-orange fabric space divider with its dark wooden framework across from the couch lends a touch of Asian style to this unique room décor.
The light-grey walling adjoins the built-in fireplace with its mantle that displays more books and earth-tone pottery with dried floral decoration. The light-grey flooring, darker grey nubby-weave area rug, natural fiber pouf and filmy white window curtains with bordering grey drapes brighten this room interior. The single green potted plant beside the couch and the hanging shelf display of plants near the window bring natural beauty to this inviting living space.
Bright Red Contemporary Leather Couch and Pillows with Potted Green Plant
Against a white wall as a backdrop, this shiny bright red leather couch with matching large pillows offers a stunning modern living-room setting. It takes center stage in this attractive interior with a full green potted plant as its primary enhancement. The large red-leather pillows are placed at an angle, spanning the sofa's width to offer attractive, comfortable seating.
The combination of dark brown and light tan faux-wood floor tiling lends depth and color balance to this minimalist style room. The modern low back of the couch is pleasingly offset by the large-sized, plush decorative pillows. The smooth, sleek lines of the sofa emphasize the modern simplicity of its dynamic design.
Large Corner Sectional Couch with Pillows in a Contemporary Living Room
This large corner sectional couch in a streamlined contemporary living room offers slim, pleasing lines and optimal comfort. Its display of decorative pillows in red, black and white adds style and fashionable flair to this welcoming interior. The low, ebony-hued Asian style coffee table with its single slender vase of white flowers lends stunning simplicity to the décor.
The handsome dark-wood flooring and light-pinewood paneling behind the couch lend pleasing natural style elements to the décor. The large window's central white blinds and bordering dark gray drapes balance this unique interior's combination of bright and subdued colors. The two green plants beside the couch lend healthy natural beauty.
Vintage Style High-Backed Red Sofa with Gold Pillows and Decorative Hookah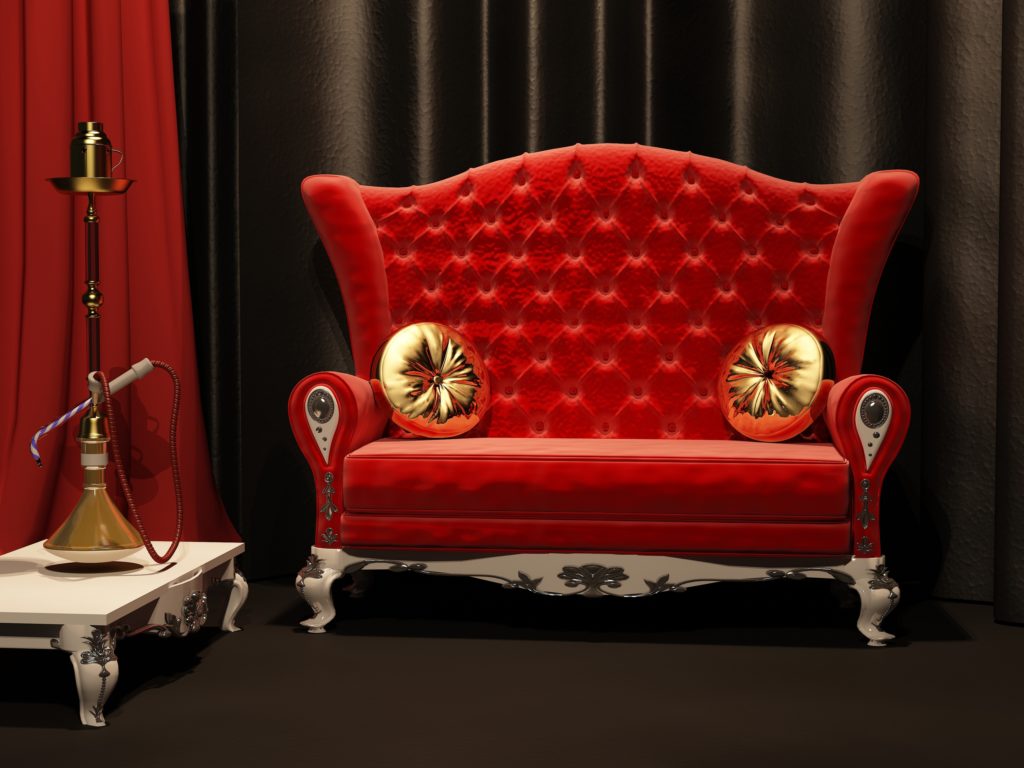 This charming vintage style high-backed tufted red velvet sofa with two bright metallic-fabric round gold pillows offers elegant retro fashion to this living room setting. The sofa's decorative white and deep brown frame is accented by a backdrop of dark chocolate-colored and red drapery. The smooth deep-brown carpet lends depth and aligns with the dark drapery.
On the low white and deep brown side table that matches the sofa's framework, a tall, decorative gold hookah adds stylish allure to this unique antique interior. Its sleek, elegant design and luster complement the bright gold sheen of the decorative gold couch pillows. The charming red sofa with these dynamic gold accents enlivens the darker elements of the room's décor.
Retro Red Sofa Against Rustic White Brick Wall in Boho Den
This warm, relaxed boho-style den has a charming retro red sofa set against a rustic white-brick wall. Two matching red throw pillows with textured white centered bands and two patterned pillows in white and tan offer decorative style. The compact, sturdy couch design emphasizes the room's pleasing vintage simplicity.
On one side of the couch, a tall glass vase displays a colorful bouquet of fresh flowers in red, white and yellow gold. At the other end of the couch and exhibited as a ladder-style easel display are several hanging white buckets of fresh-cut blooms in bright red, gold, white and purple. The rustic distressed-white floor surfacing and the semi-shag white rug add charming boho appeal to this warm, inviting interior.
Spacious Living Room with Three Red Sofas and Decorative Pillows
This large contemporary living room interior has three attractive red sofas decorated with throw pillows in matching red, deep grey and light grey shades. The two triangular coffee tables framed in stainless steel placed in the center of this three-sofa display accent the room's modern style. The textured red carpeting and overlaid area rug in deep chocolate radiate warmth and vibrant charm.
Bright purple flowers in white vases on one coffee table join with large green plants to bring natural beauty to this interior. The room is further enhanced by three central pendant lights with open geometric metalwork designs. A single dark cocoa goose-neck floor lamp aligns with the deep cocoa tiles of one wall, while floor-length beige drapes border the glass window-doors of the adjoining wall.