By choosing a brown couch when furnishing or redecorating your home, you can get creative with your choice of a rug. Whether you are furnishing your living room, family room or solarium, brown as an earth color is compatible with myriad other hues. You can select a new rug that displays bright and dynamic or soft and subdued coloration.
A dark brown couch combined with a cocoa-beige and turquoise patterned rug evokes images of an ocean and shoreline scene. Add vibrant spring green, and the visual can change to a glimpse at the blue sky through early spring tree branches. If you want a more urban feeling in room décor, try a medium-brown couch with a brick-red, smoky-grey and off-white rug.
Whatever shade of brown you select for your couch, your choices for rug colors and designs are truly infinite, especially since you can order a customized design, if desired.
Fresh, new and inspiring rug colors, textures and designs to combine with your brown couch for stunning room décor include the following 30 examples:
Elegant Neutral-Toned Living Room with Brown Leather Couch
The rich earthy brown of this stylish leather couch with its fashionable soft white and beige pillows offers natural beauty for your room décor. Its smooth, elegant design and surfaces emphasize the subtle gradations of its fine-caliber leather. As the major item of décor in this pleasing, light interior, this sofa acts as a grounding element in contrast to the other light-toned neutral furnishings. The off-white woven rug in front of the couch gives the room an attractive open and expansive atmosphere.
Beautifully framed and enhanced by the lightly polished hardwood floor, this rug brightens the hues of the leather couch surfaces. The light grey decorative walls, filmy white curtains, white minimalist style easy chair and small brown-topped, three-legged coffee table add sleek modern style. The pair of open-frame cylindrical side tables bordering the couch with an elegant lamp and a vase with white flowers emphasize this stylish modern interior.
Modern Living Room Interior with Brown Couch and Multi-Colored Rug
This boho-style living room features a sturdy dark brown upholstered love-seat style couch surrounded by simple rustic and handcrafted furnishings. The rustic woven rug in cocoa, beige and sand-colored stripes lends soft enhancement to the sofa. Nearby, a heavy square boho easy chair upholstered in deep grey fabric adds strong weighty presence to the room.
The rich cocoa walls and vintage wooden flooring emphasize the calm simplicity of the room's décor. A pair of adjoining floor-to-ceiling, multi-pane windows fashioned after French country style frame an outdoor garden scene. Several small rustic wooden tables, a tall green potted plant, a wood-frame lounge chair with a worn fabric back and seat and black-framed drawings add simple decoration.
Retro Living Room Interior with Brown Couch, Pink Lamp and Turquoise Tweed Rug
Featuring a compact retro brown cushioned couch in an alcove setting, this unique living room interior includes an attractive turquoise and grey tweed area rug. A single throw pillow decorates the couch in a matching shade of turquoise. Suspended above the couch is a pendant lamp with a bowl-shaped shade in pastel pink.
Against the white wall just outside the alcove is a vintage floor lamp with a matching pink shade beside a streamlined deep grey chest. Charcoal and white patterned floor tiling in a series of elongated diamond patterns stretch across both areas, adding dynamic retro style. A green floor plant in a white urn and a white-topped, three-legged coffee table with vintage pottery in turquoise and white lend additional rustic style.
Brown Sofa in Modern Living Room with Colorful Pillows and Carpeting
This colorful modern living room décor includes a golden-brown sofa decorated with a colorful array of pillows in vibrant shades of gold, green and white. Two pillows have green foliage designs, and a nearby light grey easy chair displays a large throw pillow with a geometric pattern in beige, cocoa, gold and black.
The floor is carpeted in a colorful patchwork design of squares in complementing tones of green, gold, light brown, beige and grey. Long window curtains in beige, sand and a brown shade that matches the sofa offer a pleasing background. A dark brown lamp beside the sofa and a round white-topped coffee table featuring a green wooden tray of books and decorative items complete this unusual room's décor.
Rustic Living Room with Golden-Brown Couch, Antique Brick Wall and Colorful Rug
The rich golden-brown tones of this plush leather couch are enhanced by the rustic brick wall as its backdrop. A creative carpet design in front of the couch features an abstract design in light blue, rust and grey shades. The vintage couch with its bordering metal studs lends warmth to the dark wood floor beneath it. Couch pillow designs display deep blue, brown and cream hues.
Floor-to-ceiling windows and a tall green plant lend additional natural warmth and charm to this cozy interior. A pair of retro wooden-topped round tables that stack display a bowl of fruit, colorful napkins and a light grey ceramic vase. Beams of soft sunlight streaming through the window bordered by long grey drapes brighten the bold and subtle colors of this inviting interior.
Contemporary Brown Tufted Sofa with Light Silver-Grey Rug
In this contemporary living room setting, the elegant frosty brown tufted sofa and matching ottoman are the primary elements of décor. Their fashionable design and fine fabric are visually appealing. At the same time, these stylish furnishings offer relaxing comfort and warmth to be enjoyed by family, friends and guests, welcomed by the tray with plants and a glass pitcher on the ottoman.
The soft, low-nap woven area rug in light silver-grey in front of the sofa brightens and highlights the room's interior. Additional charm and character are provided by the rustic hardwood flooring and vintage brick wall beyond the sofa. Vintage open wood bookshelves, a tall green plant and a rustic open-design staircase near the wall lend more retro style.
Industrial-Style Interior with Brown Leather Couch and Classic Curtains
This unique interior features industrial-style furnishings, including a squared couch design in light brown leather with a metal frame. The couch is decorated with a cluster of large throw pillows in cocoa, beige, charcoal and grey. In front of the couch is a basic industrial coffee table as a cart with large metal wheels. The tabletop displays a small seated-figure sculpture, a large wire decanter holder, a potted plant and ceramics.
Beside the couch, a tall streamlined easel-style floor lamp in light wood complements the coffee table-cart. In front of the couch, the soft woven area rug in creamy-white and dark-brown strips lends simplistic style and charm to this interior. The filmy white curtains and bordering cocoa-grey drapes as attractive treatments for the large window behind the couch add a unique touch of traditional style to this modern industrial room décor.
Large Dark Brown Leather Sofa on Parquet Floor with Luxurious Rug
This long, spacious leather couch in rich chocolate color can give outstanding cool style to an entire room. With its single decorative element of a slender soft gold coverlet, this dynamic couch design attracts major attention. The low back and two matching throw pillows resting against each arm make this luxurious sofa even more desirable.
The lustrous blended wood hues of the parquet flooring both complement and enhance this large, fashionable couch. The beautiful soft nap of the golden-beige rug in front of the couch highlights and lightens the sofa's deep chocolate color. At the same time, the rug's golden glow aligns with the gentle beige tones of the wall beyond the couch.
Contemporary Living Room with Rich Brown Minimalist Couch Design
In this long open-concept living room with smooth-lined minimalist style furnishings, the rich dark brown fabric couch displays matching brown and beige throw pillows. The equal luxury of the deep brown area rug in front of the couch is emphasized by the two small white cube-shaped tables that rest on it. Two abstract paintings in neutral colors are wall-mounted above the couch.
Across the room, the mustard-hued wall is enhanced by an inset wide white beam and a long brown 3D rectangular shelf below a wall-mounted flat-screen TV. A pair of higher slim shelves in dark wood tones that match the lower shelf emphasize the geometric design of this interior. Small decorative items and four books with bookends that spell the word "Book" add style, while the floor-to-ceiling shaded pane windows at the far end of the room repeat the strong rectangular motif of the room's décor.
Chic Large Neutral Living Room Design with Elegant Dark-Brown Sofa
In this spacious and chic modern living room design, the overall tonalities of the décor are soft and neutral. The two sand-colored sofas near the wall of windows display sand, beige and chocolate-hued throw pillows. A large square abstract painting in deep brown and beige tones decorates one wall, and two nearby easel-style lamps exhibit translucent cylindrical shades.
Two elegant antique gold-frame round coffee tables with glass tops and a fashionable gold and glass chandelier lend pleasing touches of shabby-chic style. At the far end of this open-plan room, an ornate vintage cabinet, a wooden table and chairs add to this room's intriguing ambiance from a previous era. Across from the sand-colored sofas, a deep- brown couch with a pair of golden-beige decorative pillows and the richly textured beige and green-grey carpet below command major focus in this unique interior.
Brown Cushioned Wooden Sofa in a Stylish Japandi Interior Setting
This intriguing living room or den displays stylish Japandi design, which is a hybrid mode of décor. Combining contemporary Scandinavian design with touches of ageless Japanese elegance, Japandi interiors exhibit calm simplicity and elegance. Using slender lines and artistically tasteful accessories, this pleasing hybrid style creates an energized yet sedate interior. This slim-lined wooden-framed couch with dark-brown cushions displays a single light grey throw pillow.
On the floor below, the small natural-weave area rug in textured beige lends a pleasing light quality. A simple wooden plant stand holding a white urn and full green plant, another green plant in a woven basket and a small, open-frame wire cylindrical table with a wood top and elegant white teacup add quiet decorative effects. The soft light-blue throw draped on the couch highlights the deep grey-blue open-end shelving behind the couch, enhanced by the charming ceramic cat and array of decorative accessories displayed on the shelves.
Shabby-Chic Interior with Ornate Brown Sofa and Accessories
This elaborate interior décor is the ultimate example of true shabby-chic design. The vintage opulent brown satin brocade sofa displays ornate satin pillows in varied shades of brown, cocoa and golden-beige. In front of the sofa, the deep chocolate-hued area rug on a cream-colored tile floor is the ideal choice to enhance this lavish antique couch.
A gold urn holding a large cluster of tall dried reeds hints at French country style, and behind the sofa, a large window is dressed with sheer silk curtains in a light brown and shimmering beige design. An overhanging valence that dips low on each side features an even more elaborate pattern in similar tones with an abundance of deep-brown tassels. Auburn-beige marble wall tiles complete this lavish interior with excessive yet delightful vintage style.
Contemporary Family Room with Brown Corner Sectional Couch
The major feature of this cozy and inviting modern family room is the plush corner sectional couch. In rich tones of brown, this well-cushioned sofa offers plenty of comfortable seating for relaxing, visiting, reading or watching TV. The grey-brown woven carpet is cleverly placed, aligning the rug's corner with the sectional's corner where the two seating units meet.
This carpet has a bold abstract design as a creative border, displaying strips of beige and varied shades of brown, one of which matches the rich brown tones of the couch. A staircase leading to an upper floor is made of lustrous deep wood tones similar to the couch color. Irregular white wall formations and two windows with white roller blinds brighten this unique room décor along with a tall open brown basket in a tree-branch design with a crisp white liner.
Brown Den Sofa with Mustard Armchairs and Cocoa Rug
This appealing den setting features a comfortable modern brown fabric sofa displaying soft mustard-brown colored throw pillows. Nearby, a pair of cushioned mustard armchairs add a light, pleasing ambiance to the décor. On the floor a thick-napped, textured rug in medium cocoa shades complements these attractive items of furniture.
A unique travel-trunk style coffee table with mirror sides and a glass top adds unique casual charm. The tabletop contains an hourglass, a crystal decanter, a pair of black patterned decanters and a tray of fruit. The trunk-style table exhibits authentic travel style with a leather end handle and a leather side strap as a novelty item in this warm, welcoming interior.
Brown Sofa in Contemporary Family Room with Diamond-Patterned Rug
The streamlined design of the contemporary sofa in medium-brown tones aligns with the other slim, simplistic room furnishings. This room has a casual and comfortable yet stylish atmosphere that welcomes viewers to enter. The minimalist credenza in white and natural wood displays books and varied pottery pieces enhanced by two macramé wall hangings.
On the floor, a fashionable area rug with a diamond pattern in white and mocha shades lends a pleasing creative touch. The dark mocha and white tweed pouf near a corner of the rug complements the brown shades of the couch. Beside the couch, a simplistic round three-legged table with a white top and a wooden easel-style lamp with a black shade add modern decoration.
Open-Plan Living Room with Brown Sofa, Grey Sofa and Artistic Rug
This attractive open-plan living room is well-lighted with a wall of floor-to-ceiling windows with raised Venetian blinds. It offers a panoramic outdoor view and a warm, welcoming interior. The large space includes two modern fabric sofas, one in medium cocoa-brown and the other in a medium-charcoal shade.
A large glass-top coffee table is placed in front of both couches, and beneath the table is a charming textured woven rug with a dark brown and light gray abstract design. This luxurious, thick rug resembles an artistic textile wall hanging, and it complements both sofas while creating a welcoming seating area in this large interior. The light wood flooring, beige and mocha walls, modern metalwork ceiling light and ornately framed wall mirror lend touches of creative style.
Living Room with Two Brown Couches and Geometric Rug Design
This cozy living room interior features two dark chocolate-brown couches, one with shiny black throw pillows and the other with pillows in shimmering silver. One couch has two headrests as well, and both offer streamlined, modern comfort. In front of the couches is a pair of low, thick hardwood coffee tables with sturdy, shiny stainless steel legs exhibiting books, a plant and decorative silver items.
Beneath the tables is a creative rug design displaying a large, circular geometric pattern in varying shades of grey on a soft white background. This rug brightens and enlivens the room while creating a pleasing contrast for the rich brown of the couches and the lightly polished hardwood floor. A wall of floor-to-ceiling windows dressed with sheer white curtains is enhanced by an arrangement of dried reeds and a tall green plant in a silver urn.
Ultra-Modern Interior with Abstract Brown Couch and Multi-Colored Rug
In this intriguing ultra-modern interior, a long abstract couch design in light brown and two matching armchairs claim central focus. The sleek wing-style shape of the couch and chair backs give the room pleasing contemporary charm. Behind the couch, the tall beige wall features wide overlaid strips of bright pumpkin hues and one in dark grey-green shades.
Centered among the couch and chairs is a sleek modular style coffee table with a semi-sheen finish displaying a single white flower blossom in a tall slender vase. The other major feature in this unique interior setting is the large carpet with a creative design that includes patterns of alternating dark grey-green and cocoa branch-like designs on a light beige background.
Loft Apartment Living Room With Light-Brown Couch and Fireplace
This appealing living room interior in a modern loft apartment features a long sleek light-brown fabric couch with brown and cream-colored pillows. A large window behind the couch with sheer curtains admits filtered streams of natural sunlight enhanced by a tall gold goose-neck lamp that extends outward to light the room's central area. The soft beige walls emphasize the length of the room, defined only by the wall-mounted TV screen at the room's far end.
A dark brown wooden coffee table sits in front of the couch on a luxurious and elegant beige shag rug that absorbs and reflects both the natural and lamp-generated light from above. A slender contemporary fireplace design across the room includes a tall, handsomely-grained wood fireplace vent covering mounted on the wall. The fireplace has an attractive grey-tinted, heat-resistant glass covering with a raised light-wood shelf beneath.
Trendy Modern Living Room with Bright Brown Corner Sofa
This cozy, inviting modern living room features a bright reddish-brown corner couch in beautiful brushed suede fabric. On the couch are a single dark brown throw pillow, a folded beige coverlet with white tassels and an open book. The minimalist-style furniture includes a small round metal-frame coffee table with a smooth hardwood top displaying two brown pottery pieces.
Nearby are a slender wooden-topped table and two streamlined woodcraft chairs with slim white seat cushions. This room features a large-pane interior window with dark brown framing and soft beige drapes on the opposite side as décor in the adjoining room. Beneath the coffee table is an antique style area rug in soft grey tones over light-wood flooring. A similar runner rug is placed in front of the nearby table and chairs, while a copper-colored pendant lamp and a silver-toned abstract painting framed in white add pleasing style.
Bright Living Room with Brown Couch and Earth-Tone Décor
This light-brown minimalist couch with olive-colored throw pillows is paired with a decorative area rug in nubby-woven shades of soft ginger. On the rug is a basic metal-frame square coffee table with a light-wood top displaying a large glass bowl of fruit. A wall-mounted painting of abstract leaf designs in deep brown on white sets the atmosphere for the soft yet vibrant earth tones of this room's décor.
A tall green plant beside the couch echos the leaf pattern, and a natural-fiber woven pendant lamp overhead aligns with the soft beige drapes bordering sheer white curtains dressing the tall window nearby. Across the room, a minimalist shelf unit, a wooden bench, a potted plant, a hanging vine and other simplistic decorative items add natural style and color. From the ceiling above, three black open-wire pendant lights enhance this attractive earthy interior.
Bright Country Style Living Room with Brown Couch and Stone Wall
This spacious, bright and comfortable country home living room features a large brown couch and a stunning stone wall with a raised, built-in fireplace. Above the fireplace, an abstract painting in earth tones mirrors the colors and patterns of the large decorative pillows adorning the couch. These tan, brown, beige and cream tones also align with the many color variations of the stone wall.
The oval-shaped glass-top coffee table displays a pair of vintage brass candle holders, and the dark-wood flooring exhibits a large cream-colored rug with an irregular shape that resembles an oversize bearskin. The room's white ceiling and a row of white-framed windows across the room reflect pleasing natural light from the landscaped scene outdoors.
Vintage Brown Leather Chesterfield Sofa in Loft Living Room with Christmas Tree
This loft living room interior features a handsome vintage brown leather Chesterfield sofa with a Christmas tree and gift boxes during winter holiday season. The stunning brown and auburn tones of the deeply grained tall barn doors behind the sofa are enhanced by soft natural light from the nearby door-window.
Two large black metal lanterns rest on the rustic wooden floorboards, and a fluffy white shag rug in front of the Christmas tree adds a lighthearted atmosphere to this warm living space. A narrow strip of the antique brick wall beside the window-door and the holiday gifts wrapped in brown paper and tied with rough twine emphasize the natural essence of this rustic interior.
Light Brown Leather Couch with Leather Carpet in Grunge-Style Interior
This light brown leather couch against a deep forest-green wall brings the essence of outdoor life to a loft-style business setting. The leather carpet is designed to resemble a real animal skin, and it exhibits varied shades of light brown, pale blue and off-white. Beneath the carpet and couch is a green-blue tile floor.
A tall framed pane-style window admits pleasing outdoor light, which is reflected by the lightly polished floor. As the light is absorbed by the couch and rug, additional subtle color-tone variations are visible, adding more soft hues to this unique interior. Although sparsely decorated, this corner couch setting has a warm, inviting ambiance.
Open Plan Scandinavian Style Living Room with Brown Couches
This charming open living room interior is decorated in attractive Scandinavian style, featuring a matching deep brown leather couch and love seat. Both sofas display a pair of charcoal-hued throw pillows. The central round coffee table displaying a single gold ornament has a lovely light hardwood top supported by sturdy plank-style metal legs joined at the bottom to form a squared open base.
Beneath the table, a large light-grey tweed-style woven rug emphasizes the pleasing brightness of this cheerful interior space. Beyond the love seat, built-in shelf units display decorative items, and a green plant in a gold urn is placed between these two sofas. Across the room, a spacious open kitchen offers modern appliances, a long bar-style counter and two charcoal-colored pendant lamps, all well-lit by reflected light from the pristine white walls of this inviting interior.
Luxury Living Room with Brown Couch and Elegant White Shag Rug
This luxurious living room interior displays a medium-tone stylish brown couch with a pair of cream-colored armchairs as a seating arrangement. The sleek rectangular glass-top coffee table has a simple stainless-steel frame. Beneath this table is a fluffy semi-shag white rug, and its beauty is magnified by the glass tabletop above. Windows with white Venetian blinds admit soft natural light enhanced by lighting from a large copper open-globe chandelier in the room's center.
Two white marble-topped side tables exhibit gold lamps with decorative white shades, a stylish accessory and a large white vase of bright flowers in varying tones of red and pink. A carved wooden bowl on the coffee table displays four large white blossoms as well, and an abstract painting on the nearby wall includes a bright light and additional red tones. A red wall is complemented by shades of red and orange in the white armchair's pillows, and a brown table and chairs are placed at the far end of this charming open-plan interior.
Scandinavian Style Brown Sofa in a Warm Interior with Woven Rug
This warm, welcoming interior features a slender-lined Scandinavian style light-brown sofa decorated with a folded mocha-colored coverlet with long white tassels and a dark brown throw pillow with beige patterning. On the parquet flooring in front of the sofa, a delicate round coffee table displays a single brown ceramic coffee cup, and beneath the table is a woven area rug in a cocoa and beige striped design.
Green potted plants on the windowsill and floor bring natural beauty to the room, and an Asian style framed wall print displays a large leaf design. A basket with a decorative white and beige pillow and a series of white, gold and brown balls near the floor beside the sofa add stylish ambiance. A natural-wood open shelving unit behind the sofa displays a sculpted Buddha head, candles and other decorative items, and a slender floor lamp near the window lends additional enchantment to this softly glowing room.
Minimalist Living Room Design with Brown Leather Couch and Sedate Grey Rug
This soft grey minimalist style living room features a fashionable brown leather couch with cocoa, brown, beige and white decorative pillows. Floor-to-ceiling windows display sheer white curtains and bordering brown and white print drapes. The grey walls exhibit decorative molding, and mounted on the wall behind the couch are a black and white sunflower-style design and a pair of gold-framed grey flower prints on white backgrounds.
Two small white-topped side tables with slender gold spoke-style support display an elegant vintage glass lamp with a beige-gold shade and a vase of white flowers. A chic retro white armchair adds style, and a triangular three-legged wood-top coffee table exhibits a branch of slender dried foliage in a glass vase and a small white coffee cup. Beneath the table, a fashionable close-weave area rug in subtle grey tones enhances the room's décor and the beautifully grained wood flooring.
Living Room with Stylish Brown Couch, Beige-Patterned Rug and Window-Wall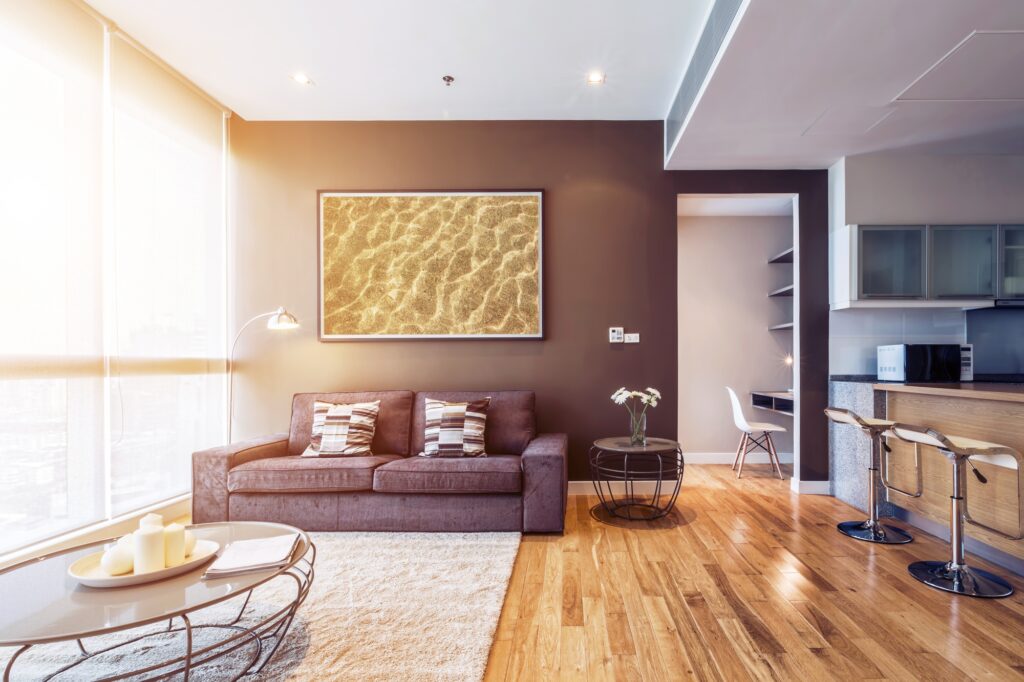 This bright, inviting large living room includes a lovely window-wall that admits soft, inspiring natural light. The elegant modern brown-fabric couch against a slightly darker, rich-brown wall is further enhanced by a large stunning painting in gold tones mounted above. Beside the couch is an open basket-style table with a dark-brown top displaying a slim glass vase of white flowers.
The couch is decorated with a pair of pillows in varying shades of brown and white. A large oval-shaped coffee table with a mocha-hued top exhibits a tray of white candles, and its base has a uniquely designed open-wire style base. Beneath the table is a fashionable woven rug with subtle beige and tan patterning. This rug enhances the reflected glow from the beautiful hues of the polished wood flooring leading to the bar area with modern chrome pedestal-style bar stools.
Modern Boho Living Room with Brown Sectional Couch and Pumpkin-Colored Rug
This bright modern boho living room has charming simplistic style and features a large chocolate-brown sectional corner couch. Colorful throw pillows decorate the couch in shades of turquoise, brown, green and grey, and behind the sofa is a brick wall painted white to match the rest of the room. The beamed ceiling emphasizes the boho appeal of this warm interior, and the handcrafted wooden coffee table displays pink flowers and assorted candles.
The white-brick wall has two small square pane windows, and mounted on the wall is a vintage pendulum chiming clock in dark-brown wood. Small decorative items are displayed on a small white chest and on the brick windowsills above, and a large potted green floor plant joins smaller ones displayed on a shelf and in hanging planters to enhance the natural, relaxed atmosphere of this room. Beneath the wooden coffee table, a cheerful pumpkin-colored area rug on light-wood flooring lends soft warmth enhanced by a rustic spotlight-style lamp with rough-hewn wooden boho-mode supports.