Green is a color that is used as a symbol for the pure, natural world around us. It is said to have calming, nurturing, healthy and relaxing qualities and effects. In the entertainment and broadcasting industries, event guests and concert performers often await their appearances in the "green room."
In interior design and décor, green is used frequently for its soothing tones and sensibilities. Yet some shades of green also evoke excitement or optimism in individuals. People whose work environments have green décor usually experience less stress and fatigue than others.
The color green is also associated with healing, and by relaxing on your elegant or casual green couch enhanced by a stylish rug, you can feel serene and completely rejuvenated.
Seventeen fashionable rug colors and textures to complement and accent your stylish and stunning green couch include the following:
Luxurious Green Velvet Living Room Sofa and Vintage Gray-Green Carpet
This luxury living room interior features a rich deep green living room sofa and a vintage light gray and green patterned rug. The forest green wall behind the couch displays a silver-framed drawing of a bird and a minimalist frame-style clock. A low dark-wood table beside the couch exhibits a green plant, decorative items and a round modern lamp with a slim gold frame and base.
At the other end of the sofa, a double-tier round gold table offers slender elegance and displays candles, books and a cactus in a round gold container. On the hardwood floor in front of the couch, a vintage soft gray and green patterned rug is accented by a dark green pouf and a small gold coffee table, both in cylindrical styles. A green floor plant in a gold metal urn lends additional style and charm.
Fashionable Green Corner Sectional Sofa with Green Textured Rug
This streamlined, fashionable green corner sectional sofa is placed against a smooth natural-wood shiplap wall. On the wall, an elegant modern round backlit mirror in a chic gold frame brightens this calm, sedate interior. The green and gray floor tiling exhibits a pleasing abstract pattern.
A richly textured deep area rug before the couch lends depth to the décor while aligning with the sofa's similar hues. A natural wood coffee table with a clear glass top displays a round white marble tray. Across the room, a lighter green parlor chair and elegant spring-green drapes bordering sheer white curtains complete this stylish modern interior.
Modern Boho Den with Green Sofa, Stone Wall and Vintage Rug
This inviting modern boho-style den features a fern-green sofa with simple lines against a rugged light gray stone wall. The sofa is decorated with colorful throw pillows in vibrant green, white and a green plant themed design. The distressed white wood flooring displays a vintage area rug in soft rust and cream tones.
An oval shaped wooden coffee table exhibits a round light-wood tray with green accent candles. On the stone wall behind the couch, a large round rustic clock with Roman Numerals offers rust-toned coloration that complements the vintage rug. Beside the couch, a soft lemon colored metal spotlight style floor lamp with a simple metal tripod base offers focused indoor lighting.
Elegant Chartreuse Sofa and Tufted Wing-Back Chair with Creative Rug
In this elegant contemporary arts and crafts style living room, several different modes of décor are represented. The modern-classical chartreuse sofa and matching tufted wingback chair contrast pleasingly with a thick woven rug in bold cocoa, chocolate and light-gray stripes. The contemporary crafts style of the rug offers dynamic tonal and stylistic depth to the room. Beneath the rug, the natural finish of the light wood shiplap flooring lends a soft country-cottage effect.
Beside the sofa, a large white ceramic urn displays a cluster of tall dried reeds and branches as emphasis to the cottage setting effect. Over the couch, a large black, gray and white abstract framed print complements the design of the rug, and a modern-classical silver-toned metal floor lamp and white shade accent the fashionable sofa. A small white wooden handcrafted coffee table with a carved wood bowl merge the country-cottage and crafts styles of décor.
Deep Sea-Green Suede Sofa with Pleasing Neutral Rug and Décor
This stunning contemporary suede den sofa in deep sea-green is beautifully balanced by its neutral surroundings. The room's soft mocha walls and distinctive parquet flooring serve as an effective foundation and backdrop. Near the couch, slightly darker mocha floor-length drapery covers tall windows.
Beside the sofa, a neutral stoneware urn holds a cluster of tall, thick dried reeds. On the rug, a round knitted beige pouf along with a nearby dark walnut wooden bench with a natural-fiber seat add texture and charm. Near the couch, a small round walnut three-legged table with a clear glass top displays an elegant crystal decanter and glasses.
Modern Classic Living Room with Soft Green Sofa and Gray Carpet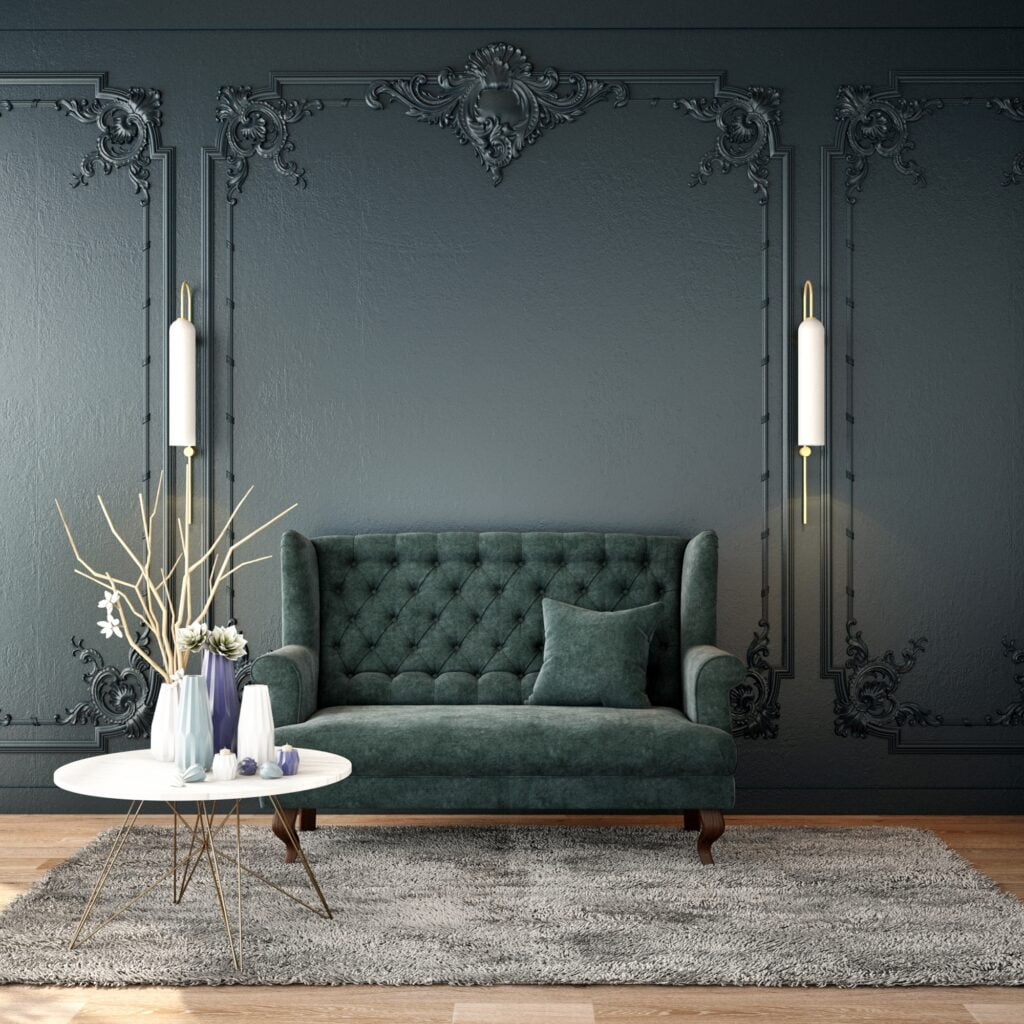 This elegant modern classic living room setting includes a sedate traditional tufted sofa in soft green against a wall of similar green tones. The wall exhibits elaborate traditional wainscoting and long slender sconce lights. The sofa is designed to resemble a traditional high-backed settee and displays a single matching pillow.
The light-gray textured woven area rug in front of the sofa lends subtle highlights. Beneath the rug, the light-wood flooring brightens this calm, welcoming interior. As a refreshing contrast in style, a small white-topped coffee table with slender metal-frame legs exhibits a white ceramic vase with dried branches and white flowers. Other small items of neutral décor complete this tabletop display.
Stylish Contemporary Futon Sofa in Spring Green with Gray Patterned Rug
This contemporary den features a light spring-green futon sofa with a light pinewood frame. Creative pillow designs in dark green and textured gray are highlighted by a soft white knit tasseled coverlet. Two plant-themed prints in black gallery frames decorate the soft gray wall behind the couch.
A tall pinewood tripod floor lamp beside the futon with a black shade lends casual modern style. On the other side of the sofa, a black bicycle and a small colorful handcrafted maple-wood table with a green plant add to the relaxed ambiance of the room. On the soft beige tile flooring, a small area rug with light-gray geometrical patterning in light gray and white brightens this refreshing room décor.
Spring Green Sofa with Bold Green and Black Striped Rug
This charming modern den décor includes a bright spring-green sofa with two throw pillows, one in pumpkin hues and the other striped in varied tones of green. The soft gray wall behind the couch displays a cluster of natural floral and bird prints in attractive gallery frames. A small three-legged table with a round white top exhibits three small decorative vases in neutral shades.
On the other side of the sofa are a tall, slender metal floor lamp with a white shade and two slim ceramic urns with tall dried reeds. The bold rug design in vibrant green and black stripes is transformed into a soft checkered pattern by subtle black stripes that intersect the bolder black lines horizontally. A large green floor pillow that matches the sofa, a pumpkin and green-gray throw and a small pumpkin and gray striped pillow accent the light wood flooring and the overall décor.
Apple-Green Sofa with Dark Green Pillows and Contemporary Rug Design
In this contemporary living room setting, the bright apple-green sofa and the bold charcoal and soft-gray semi-shag rug create a stunning display. The sofa's dark forest-green pillows and the section of large green wall and ceiling tiles behind and above the couch lend depth and character to this unique interior décor.
Near the long window wall, a streamlined parlor chair and pillows matching the sofa display complement the room's dynamic, refreshing ambiance. The window treatments of sheer white curtains bordered by light green drapes, a full green tree in a dark gray urn and a small cube table with a slender, white-shaded lamp at one end of the couch add pleasing accents. Beneath the dynamic rug design, shiplap wooden flooring in natural-finish walnut lends soft basic elegance.
Forest Green Corner Sofa with Soft Beige Nubby-Weave Rug
This sleek modern corner sectional sofa in elegant forest green has pleasing tufting and a slim wooden base. It displays decorative pillows in matching forest green, rich cocoa and soft white and cocoa patterns. A large matching ottoman exhibits a small tray with two wine glasses and daisies.
On the richly grained walnut wood flooring, a small beige area rug lends a soft, light accent to the room. Beyond the couch, a deep cocoa wall lined with white and wood-finish cabinetry add additional stylistic emphasis. This warm, welcoming setting combines dynamic color and simplistic design with pleasing style and balance.
Vintage Green Velvet Couch in Solarium Corner with Rustic Brown Rug
In this casual-chic solarium corner, the soft green velvet vintage couch displays a matching pillow and a large handcrafted pillow in neutral shades with deep green and cocoa fringe. The closely woven rug-mat in rust hues serves as a base for several small round black minimalist tables displaying greenery in a large clear glass vase, books and papers.
A wall of black metal screening behind the sofa separates this cozy seating area from an indoor garden area. A large open window-wall leads to green lawns while admitting natural light to brighten the interior. Soft beige floor tiling gently reflects this refreshing outdoor light, creating a soft, pleasing and relaxing glow.
Regal Green Sofa Against Deep Gray Wall with Matching Green Carpet
This luxurious tufted classic sofa in alluring shades of regal green offers a pleasing combination of ornate elegance and sophistication. Its three matching pillows add emphasis to the dramatic color effects of this central item of décor. Behind the couch, a richly toned deep gray wall displays elaborate traditional wainscoting.
A tall green plant in a dark gray urn beside the sofa lends natural style and ambiance. Near the couch, a pair of small round minimalist design tables with slim natural-wood frames and sleek black tops display white plates with refreshments. A smooth overlay of carpeting in a swirling design beneath the tables offers light colorful accents in green, cocoa and cream tones.
Modern Spring Green Sofa with Deep Auburn Carpeting
This attractive modern sofa design in pleasing spring green hues can brighten and enliven even a small living room, den or family room. Displaying a pair of rust-toned throw pillows, it lends sensibilities of both early springtime and approaching autumn to this interior design.
Placed on vibrant close-weave carpeting in rich shades of deep auburn, this sofa represents an even stronger appearance of a dual-seasonal theme. The soft yet definite textured effect of the rug contrasts with the smooth surfaces of the sofa and pillows. This interior offers an inviting and energizing living space with simple yet dynamic visual appeal.
Warm Green Textured Sofa with Black and Gray Checked Rug
This bright, warm green textured sofa displays a pair of light cocoa-colored pillows plus a smaller mocha and white striped cushion. The dark-brown lower wall behind the sofa services as a background to frame and enhance the color and style of the couch. Upper white walling displays a series of box-shaped square and rectangular shelves exhibiting books, a small lamp, a slender coral-hued vase with reeds and other small items of décor.
The dynamic area rug in front of the sofa has a pleasing black and gray checked design. The rug coordinates well with the wrought-iron frame of a minimalist coffee table with a round light-wood top displaying a glass vase of orange tulips and other decorative items. The cheerful pumpkin-toned floor tiling brightens the room while enhancing its overall warm and welcoming atmosphere.
Light Yellow-Green Sofa with Rattan Furniture and Lime-Green Rug
This attractive light yellow-green sofa is decorated with cranberry and blue-gray throw pillows. Set against a vibrant green wall, it offers a refreshing feeling similar to an indoor garden. On the wall at one end of the couch is a group of round white-framed realistic green plant prints that have the appearance of real plant life.
A nearby small tree in a white planter supported by a natural-wood frame lends real-life charm that is mirrored by greenery in a small white vase on a square modular table at the other end of the couch. A large rattan floor lamp near this table aligns with a large rattan pouf-table with a green plant and a small basket with books. The appealing lime-green area rug on wide-plank light natural-wood flooring lends more charming color and style.
Simplistic Den Design with Forest-Green Sofa and Striped Rug
This inviting simplistic den design includes a forest-green sofa adorned with matching green cushions plus two deep coral-toned throw pillows. A large matching ottoman draped with a brown and beige plaid coverlet serves as extra seating. A large black and white photograph of plants, flowers and butterflies in a gallery frame decorates the light gray wall behind the couch.
Beside the sofa, a green plant in a decorative white urn and a full green tree in a larger white urn add pleasing natural elements. On the opposite side of the couch, a small round table with a natural-wood top displays a carved wood lamp with a small neutral shade. A stylish rug in soft green-blue, light blue, gray and white stripes adds pleasing color, and on the rug is a small round white-topped coffee table displaying a white vase with bright coral-toned tulips and other decorative elements.
Light Green Living Room Sofa with Charcoal-Toned Pillows and Complementary Carpet
In this bright, fashionable contemporary living room, the light green sofa with charcoal-hued throw pillows is complemented by a richly textured carpet in similar tones of green with lighter gray patterning. A minimalist-style stairway and railing on one side of the room is enhanced by a bright magenta wall. The other walls and ceiling are pristine white with a black digital TV screen as the sole wall-mounted decoration.
Slim white shelving below the TV screen display small items of décor. A large round pendant lamp centered above this attractive setting displays a shallow cylindrical shade with an abstract pattern in multiple shades of cocoa. A small round low crate-style table in light-toned natural wood serves as a coffee table, and softly polished gray tile flooring lends pleasing balance to the overall décor.