Red is a vibrant, attention-capturing color. It can evoke feelings of excitement, elation, passion and energy. Unless it is used in small amounts as an accent in room décor, red is known to dominate other colors. Designers and DIY home decorators typically use red furnishings as major focal points in a room.
A red couch can turn even a small empty room into a luxurious living space. Minimalists often use a red sofa in an otherwise monochrome interior or to enliven a neutral-toned room. A red couch in a black and white living room is stunning, and this color scheme is ever-popular.
If you choose a bright red couch to enliven your living room, be prepared to pair it with an equally attractive rug.
Ideal rug colors to go with your dynamic red living room, den or solarium couch include the following:
Casual-Chic Living Room Interior with a Red Corner Sofa and Gray Rug
This comfortable casual-chic living room interior includes a large red corner couch and a textured gray rug. The couch is decorated with matching red pillows interspersed with green cushions and a green throw casually draped to the floor. A round metal glass-topped coffee table displays ceramic coffee cups and a brown pottery vase with greenery, and a dark wood Asian style frame partition nearby is lined with lovely deep coral curtains.
A gray mesh chair complements the medium-gray rug on a light-gray tile floor. Over the couch, a wall-mounted abstract painting in shades of red-orange, gray and mocha lends artistic essence. Beside the couch, a built-in fireplace mantel displays books and pottery with floral accents, and a hanging shelf near a window with sheer white drapes exhibits a full green plant highlighted by filtered sunlight.
Modern Living Room with Red Couch and Gray Shag Rug
This modern living room interior is brightened by an attractive, compact, soft-cushioned red couch exhibiting a rich chocolate throw pillow and an open book. The two-tier triangular coffee table displays books and a round white and gray tray with red accents. On the light-gray wall above the sofa, a pair of rectangular paintings of red flowers and foliage add natural beauty and charm.
The rich gray shag rug catches rays of light from a nearby window, giving the effect of a multi-toned carpet. More books and a pillow that matches the red couch placed on the rug add color. Beneath the rug, the light-wood flooring lends a soft glow to this warm, relaxing interior.
Valentine's Day Style Den with Red Sofa, Red Lamps and White Rug
This stylish red sofa is in front of a large window with white lace curtains bordered by red drapes. The sofa is decorated with two white pillows with red and cocoa leaf patterns and a folded brown and white coverlet. A white minimalist shelving unit near the couch and a slender white-topped rectangular table across the room display velvet-textured red roses in a crystal vase, red candles and other decorative red and white items.
A low white square coffee table exhibits a bottle of champagne in a silver cooler, red fruit on a silver tiered tray set, red pottery, two red wine glasses and a Valentine's Day card. Above the coffee table, a large red pendant lamp adds more cheerful red to this bright white-walled interior, and a gray shag pouf nearby lends comfortable seating. A decorative red box beneath the rectangular table and pink and white balloons on the floor suggest a holiday party.
Luxurious Vintage Shabby-Chic Red Velvet Parlor Sofa
This elegant red velvet vintage shabby-chic style sofa against a soft antique gold wall reflects a pleasing fashion of comfortable luxury. Its ornately carved oak-wood frame showcases the highly skilled woodworking of years past. The sofa's slightly worn appearance warms its elite French style, creating a pleasing casual quality.
The rich red carpeting covering the floor of this vintage parlor room setting matches and emphasizes the elaborate velvet and wood design of the couch. The carpet is further enhanced with a small gold diamond-shaped pattern. This gold accent in the smooth weave of the rug aligns with the antique gold wall, celebrating the ageless glamour of this room.
Red Sofa In Boho Den with White Brick Wall and Semi-Shag Rug
This casual, inviting boho style den features a bright red sofa with clusters of throw pillows in matching red and white lace. The rustic antique brick wall coated with white paint behind the couch creates a pleasing backdrop. The sofa has a slightly retro, mid-century style that fits the room's simplistic décor.
The vintage rough white floor boards are enhanced by a nubby-weave soft-white area rug in front of the couch. On one side of the sofa, a large bouquet of fresh spring flowers in a clear glass vase adds colorful charm. At the sofa's opposite end, a triangular open wooden frame exhibits hanging white buckets of flowers in brilliant red, purple and yellow.
Slick Red Sofa in Modern Minimalist Room with Creative Rug
This slick contemporary red vinyl couch in a dark-toned modern minimalist room is the major focus of attention. Its built-in matching cushions add comfort and style, and nearby are double doors made of cushioned red vinyl. The deep gray-green wall behind the sofa features a pattern of large circles in dark red shades.
The unique carpeting displays a creative, dimensional design of loosely intertwined oval shapes drawn in light red and silver-blue on a rich lavender background. This rug has an unusual kinetic quality that gives its design the appearance of being in continuous motion.
Red Patterned Sofa with Red Curtains and Sky-Blue Area Rug
In this colorful modern living room interior, the red patterned sofa displays touches of yellow-gold, light-blue and gray. The couch is decorated with two matching pillows and a third cushion in clear sky-blue. The square terracotta floor tiles are partially covered by a large beige semi-shag rug and a small area rug in sky-blue displaying a rectangular wooden coffee table.
The soft yellow walls and large sky-blue French doors bordered by red drapes lend warm hues and vibrant style to the room. A small dark-wood cabinet and a larger wood chest on either end of the couch exhibit a terracotta lamp and a basket of books. Across the spacious room, a rough white shiplap wall displays a built-in fireplace with an elegant black screen, and a nearby table with a large climbing vine has a pair of wooden chairs with sky-blue cushions.
Asian Style Living Room with Bright Red and Soft White Sofas
This chic contemporary Asian style living room décor includes a bright red and a pristine white sofa. While the white sofa joins with the white-gray walls and flooring to create a pleasing light ambiance, the vibrant red couch adds dynamic color and character. The red couch is adorned with a pair of white pillows with Asian calligraphy in red, and on the white sofa are another matching pillow and one in bold red tones.
The richly textured cocoa shag rug in front of the sofas displays a low Asian design black coffee table. On the tabletop are a stack of black boxes and other decorative items. The corner wall beyond the two couches is decorated with a series of vertical black strip designs. The small black-topped side table below exhibits a slender lamp with a shallow red shade.
Contemporary Den with Plush Red Sofas and Rich Charcoal Rug
In this current simply decorated yet stylish den corner, the two plush sofas in rich tones of deep rose-red suede create an elegant setting. One couch displays a pair of smokey-blue throw pillows. Between the sofas is a small wooden side table, and the beautiful vintage cherry-wood chest-style coffee table offers lustrous warm tones.
The single white round cloth decorating the tabletop emphasizes the table's stunning hues and soft surface glow. The charcoal area rug on beige flooring beneath the table creates a strong tonal contrast with the sofas and coffee table while echoing the sofa's dynamic visual appeal. The two dual-pane windows frame splendid views of the clear blue sky and white cumulus clouds beyond, offering the pleasing effect of two framed paintings.
Elegant Modern Living Room with Red Sofa and Stunning Rug
This elegant and unique modern living room has a rich cocoa ceiling with white beams and matching walls with stylish white woodworking. The fashionable cherry-red sofa displays a pair of decorative mocha cushions with a light-blue design. On the floor before the sofa is a stunning modern version of an antique Persian rug in brilliant tones of red, blue, amber and a wide spectrum of colors. Across from the sofa is a beautiful stone tile fireplace with a white painted wood border.
The fireplace mantel displays a vintage world globe and white candles, and mounted on the wall above is a large antique portrait painting in dark color tones. Near the fireplace are an elegant antique French-style wooden parlor chair with a blue-gray cushioned seat and an ornately carved rounded red oak side table with a light marble top. The French-style pane windows highlight a hanging green and gold stained-glass plaque and a small vintage library card-catalog design chest with multiple small square drawers.
Stunning Red, Black and White Living Room with Red Leather Sofas
This dynamically decorated modern living room radiates casual elegance and style. The décor includes two vibrant red leather sofas and a matching easy chair. The smooth bright leather reflects light from a nearby geometrical standing lamp with a large flat white shade.
A richly textured semi-shag rug in matching shades of brilliant red displays a large low black squared coffee table that exhibits a single red, black and white striped ceramic vase. A black wall behind one sofa and a series of three small black and gold prints on the adjacent wall add depth and a dramatic touch. The lovely oak-wood flooring and a large window with an installation of a stainless-steel and white wood slender shelving unit lend natural beauty and a pleasing minimalist accent.
Contemporary Living Room With Light Red Couch and Soft Gray Rug
This contemporary light-red couch is adorned with clusters of pillows in pastel shades of beige, cocoa, gold and brown and a neatly folded beige coverlet. On the white wall above the sofa, an abstract painting in multiple tones of gray lends pleasing geometrical style. On the floor beside the couch, a tall white vase displays bright coral flowers with greenery.
In front of the sofa, a soft gray area rug overlaid with a smaller round rug in varied subtle gray shades exhibits a closed square coffee table with a fabric cover in a gray, pink, rose and lavender leaf design. On the table is a bowl of green decorative gourds, and the nearby sliding window-wall offers a lovely green garden scene outside. The lightly polished wood floor and a large dark-wood credenza displaying a small digital screen, lamp, vase and decorative jar add stylish modern accents.
Charming Antique Red Living Room Settee Beneath Classic Painting
This beautiful antique red settee with its elegantly tufted back and dark wood frame is from Western Cape, South Africa. Its asymmetrical back and delicately carved legs emphasize the intricate design details from a fashionable past era. The vintage painting on the wall above framed in ornate gold complements this stylish sofa design.
The soft golden-hued wall and the large-plank light-wood rustic flooring highlight the complex design of the rug in front of the settee. In an intricate pattern of gold, cocoa, gray and black, this tightly woven rug aligns with the elaborate design of the sofa and painting. Despite its formal style of décor, this charming living room is warm, relaxing and inviting.
Contemporary Den with Rose-Red Sofa and Natural-Fiber Rug
This contemporary den décor features a molded rose-red fabric couch displaying a bright orange coverlet and a matching easy chair. Beside the sofa is a slender stainless-steel floor lamp with a rose-red shade that also matches the couch color. Between the sofa and the white wall behind, a colorful drape in a rose-red and deep-lavender pattern of circles on white lends playful charm.
The stainless steel and light-wood coffee table with a narrow drawer and cubbies display a bright collection of oranges, raspberry-hued teacups and two slender deep tangerine-colored vases with orange and pink tulips. On the floor is a light beige natural-fiber rug-mat that adds a pleasing neutral base to this vibrant multi-hued setting.
Contemporary Casual-Chic Red Sofa with Abstract Expressionist Rug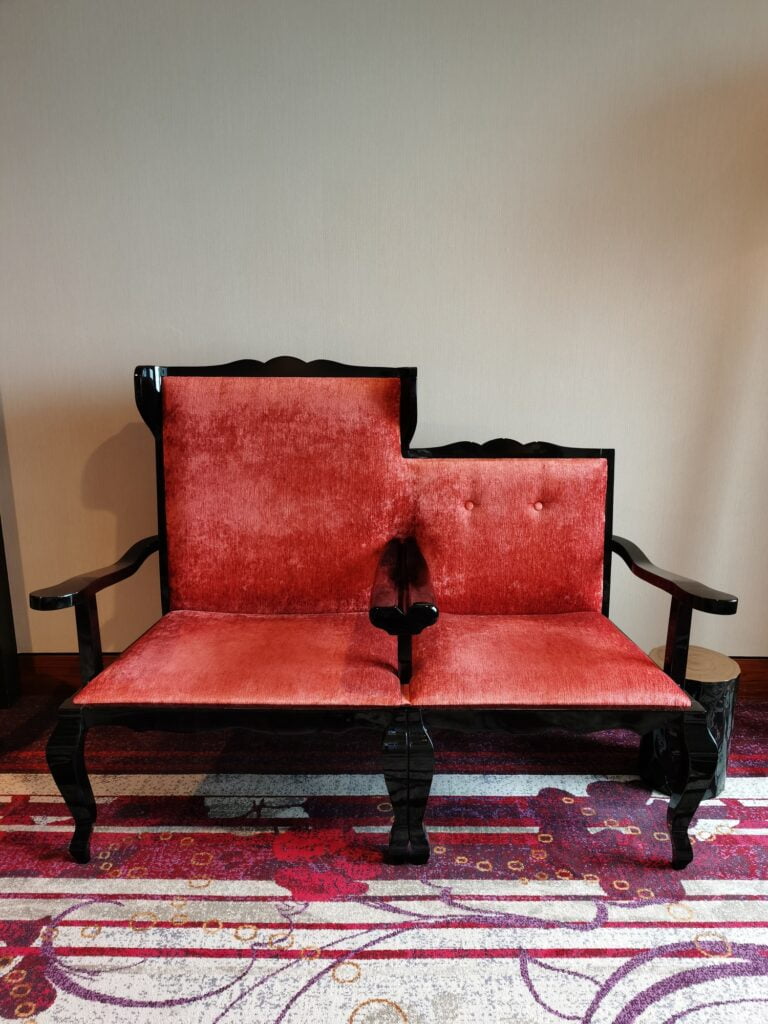 This unique contemporary red sofa has strong casual-chic appeal. It is a major focal point in this simplistic yet highly stylish living room décor. It is designed to appear like two separate chairs melded together, one full-size and one child-size. The red leather against the sofa's decorative black frame and arms offers elegance.
The room's soft cream-colored walls and dark-wood flooring accent the Abstract Expressionist design of the rug. Its whimsical red and purple line drawings on a tightly woven field of soft white lend a modern, uplifting quality to this interior. While the rug has a pleasing painterly effect, the sofa design has a sculpted quality, giving the room an appealing artistic allure.