Our world is filled with colors of every imaginable shade, tone and tint. Every day, from the time we awaken in the morning until we fall asleep at night, we constantly perceive colors. Whether we spend most of our waking hours outdoors in a natural setting or in a contemporary office, colors surround us.
It is true that none of us see colors and feel their effects in exactly the same way. Yet every color and its reflections in daylight have a general effect that most people perceive. Nearly everyone chooses a favorite color because it is pleasing visually and also due to the way it makes them feel.
One reason that choosing our home décor is uplifting and energizing is that it allows us to communicate through colors, sharing our creative feelings and sensibilities with others.
What colors in throw pillows go best with your beige couch? Consider different possibilities, then choose your favorite pillow colors and combinations. Some fresh new ideas for updating your beige couch with subtle, dynamic or sensational throw pillow colors include the following:
Creative Modern Living Room with Beige Couch and Vivid Pillow Colors
The richly colored pillows decorating this beige couch join with the radiant red oak cabinet to enliven this creative modern room. The vivid tones of green, yellow, pumpkin, tan and auburn bring vitalizing natural hues indoors to energize this interior. The dark green chair, potted plant and textured round yellow pouf across the room align with this engaging color scheme.
The neutral light grey walls and flooring of this inviting living room seem to expand, energized by the vividly colored décor. The abstract painting mounted over the couch mirrors the auburn and tan shades of the décor, surrounded by white canvas. Even the oblong grey-beige form in the painting seems to join the walls in extending the warmth of the room.
Rich Throw Pillow Colors to Enliven a Neutral Beige Futon-Couch
This attractive modern Scandinavian style living room exhibits touches of Asian influence in the futon design and the wall-mounted woven basketry. The lovely subtle neutral shades of the textured woven rugs and grey walls reflect a sense of restful calmness.
The beige futon and cushioned chair gain warmth from the light wood of the streamlined coffee table. The wooden futon chair frames, tall wooden screen and darker wood plant stand lend the beauty of their subtle hues and grains. As the dynamic central focus of décor, the multi-colored futon throw pillows in rich olive green, auburn, pumpkin, grey, tan and beige enrich the overall décor with natural tonalities.
Elegant Beige Couch and Throw Pillow in Bright Neutral Interior
This elegant contemporary beige suede couch is decorated with a subtle neutral tasseled coverlet and a slightly darker beige silk throw pillow. The white marble coffee table, white plant basket and white gallery stand displaying a vintage clock and pendulum absorb and reflect natural window light.
The grey pendant lamp above the couch suggests another source of light for later hours in this bright, welcoming interior. Soft beams of slightly filtered sunlight highlight the deep green hues of a cactus and two more green, healthy plants. While the plants add the main elements of strong color, the couch's single beige silk throw pillow is the central enhancing element of décor.
Beige Leather Couch with Decorative Pillows in Neutral Room
The textured beige leather couch in this neutral minimalist style room is decorated with two enhancing throw pillow accents. The pleasing zigzag pattern of the white and grey woven pillows lends a hint of energetic movement to this quiet, sparsely furnished interior.
The woven rug's diamond-shape pattern in grey on white aligns with the pillow design, creating an appealing stylistic connection. The strength of these similar woven patterns gives a subtle sense of continuity to the few items that compose the décor. The small olive green tufted pillow, matching coverlet and small green plant lend garden color to enliven the room.
Light Beige Couch with Enhancing Pillow Décor
This beige couch and surrounding neutral living room décor are brightly illuminated by sunlight through long, filmy white curtains. Decorating the couch is a row of bright throw pillows in gold, white, aqua and a dynamic black and white pattern.
Over one arm of the couch, a bold coverlet design in white and bright aqua lends dramatic style to the room. Although the overall décor is neutral, these colorful accents and the artist's easel add modern boho fashion. Simple wooden and handcrafted furniture align with the relaxed creative style of this interior.
Navy Blue Living Room with Beige Couch and Throw Pillow Accents
This stunning navy-blue living room offers a unique selection of furnishings. As the featured element of décor, the sophisticated modern beige couch is adorned with a round tufted pillow in charcoal and a lighter grey and white striped square pillow.
The three black and white round wall clocks align with the black metal standing shelves unit and the glass-topped black coffee table. Plants and decorative items on the shelves, a coffee table, and a white flowering floor plant add natural color to the room. The dynamic silver-grey and white striped carpeting brings creative balance to this interior, with the couch and carpet as the leading fashionable elements of décor.
Modern Beige Couch in Sunbathed Room with Light Gold Drapes
This sunbathed living room interior displays an elegant light beige couch and floor-length golden drapes. The translucent weave of the drapery admits filtered yet strong natural sunlight to fill the room. A large pendant lamp with a woven natural fiber shade, a natural wood-finish desk and coffee table along with a natural-weave pouf add elements of contemporary country-cottage décor.
As the featured item of room décor, the stylish beige couch is decorated with tan and white square pillows and a pair of cylindrical cushions in rose-beige. An elaborate knit throw with soft tassels in light rose-beige adds quiet glamour to this inviting interior.
Contemporary Living Room with Beige Corner Couch and Bright Pillows
The sleek furnishings of this contemporary living room with large windows include a spacious corner couch in soft beige. Along with the wall-mounted abstract paintings in varied shades of auburn, purple and black, the major touches of color in the room are the couch's bright, decorative throw pillows.
In rich tones of yellow, tan, cocoa, blue and red, these colorful square pillows bring vitality to the room. The neutral walls, flooring and rug catch and reflect these hues and the natural light from the windows and door. The minimalist black metal ceiling light with a pair of simplistic lamps and the basic round white metal tables accent the room's contemporary style. Even the sleeping dog seems pleased with this attractive and relaxing interior décor.
Country-Cottage Living Room with Beige Couch and Large Throw Pillows
This warm country-cottage living room has traditional-classic sheer white curtains with bordering soft-yellow drapes tied back to frame the retro beige couch. This comfortable, slightly worn couch is decorated with large square throw pillows in dark chocolate, cocoa and soft white hues.
The simple handcrafted coffee table, wooden chair and varied pottery and decorative items on the side table and coffee table accent the country-cottage atmosphere. In the corner, the rustic wooden tripod-style floor lamp and simple white shade add to the retro accents in this welcoming interior.
Scandinavian Living Room with Beige Couch and Patterned Pillows
This inviting, streamlined Scandinavian living room has an attractive beige corner couch. The decorative couch throw pillows display varied and pleasing contrasting patterns in black and white. The beautifully braided beige blanket resting on one arm of the couch adds soft luxury to the room's décor.
The light-wood flooring and simple round metal table in white align with the overall simplistic design of this appealing interior. On the tabletop, the single small pottery vase emphasizes the streamlined plan of the room. The rich golden hues of the abstract monochrome painting above the couch catch natural window light to enliven this attractive living space.
Beige Settee with Decorative Pillows and Coverlet
This fashionable modern beige settee-couch in front of a light grey wall is brightened by two colorful throw pillows. One pillow is in deep green hues, and the other displays an abstract leaf pattern in green and white. On the other side of the settee, a soft green coverlet adds additional color. A nearby potted ficus (fig) tree adds a touch of natural beauty.
The simple black-framed side table, an overhead open wire-frame pendant light and the simple black and white striped rug lend pleasing modern streamlined design elements. The small three-legged coffee table with its green glass vase and the side table's decorative green boxes join with the sophisticated framed wall posters to add casual elegance to this appealing interior.
Elegant Beige Couch with Shabby Chic and Modern Décor
The elegant lines of this sedate modern couch are embellished by a single deep forest green square throw pillow. This pillow also highlights the deep green wall behind the couch that displays an empty picture frame in ornate gold. The plants lend relaxed natural beauty and warmth to the overall interior.
The olive green and gold velvet cushioned parlor chairs join the elaborate picture frame to add strong elements of shabby chic to the room's décor. Yet the low round gold metal coffee table and the taller small green square-topped table beside it offer modern minimalist qualities to this creatively appointed living room. The tabletop decorations lend additional shabby chic charm.
Long Beige Couch with Rich Cocoa-Orange and Beige Pillows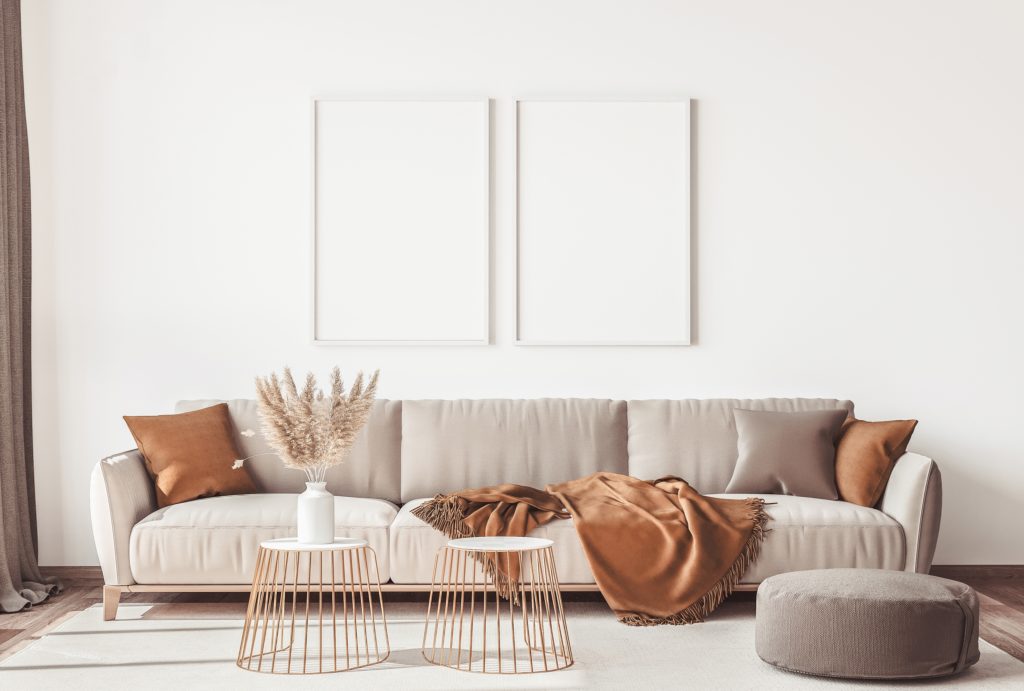 Against a white wall with a pair of pure white framed canvases, this beige couch is well decorated. Its colorful arrangement of darker beige and rich cocoa-orange pillows and throw brings light and luster to the setting. While the two tall white canvases seem to add height to the room, this long, colorful couch display appears to make the room wider.
Floor-length chocolate-hued window curtains add additional color. The dark beige pouf offers a sense of relaxing comfort to the room. In front of the couch, the pair of open, inverted-basket style tables and white pottery vase displaying dried reeds lend contemporary simplicity to this living room décor.
Opulent Golden-Beige Vintage French Couch and Pillow
As an ideal example of shabby chic living room décor, this vintage French opulent settee-style couch in golden-beige velvet is charming. Its matching pillow echos the mystery and allure of this ever-popular style of décor. The ornate carved designs of the couch's wooden frame add to its appeal as décor from an earlier era.
The irregular shape of the couch back and the elaborate tufting of the velvet fabric enhance the aging elegance of this stylish couch. Adding to the unique design of this living room display is the antiqued white plaster wall behind the couch as a background. Painted with light grey and rose veining, it resembles a vintage marble wall, adding character and charm to the room.
Small Beige Couch in Colorful Boho Style Living Room
The center of attention in this delightful bright boho style living room is a small 1950s beige couch with thick cushioning. Decorated with radiant red, green and yellow square throw pillows, the couch has a comfortable, welcoming appearance.
On the soft white wall behind the couch, a series of four geometric patterned unframed canvases in grey, pink, blue, yellow and white emphasize the creative boho style of the room. The bright tangerine-colored floor-length curtains lend additional brightness while the white wall and natural oak flooring reflect the cheerful colors of this cozy interior.
Contemporary Living Room with Beige Corner Couch and Pillow Clusters
This elegant contemporary living room décor includes a sleek light-beige couch with simplistic square lines and a matching ottoman. The couch displays multiple clusters of throw pillows in beige and brown. A section of rich-toned dark wood paneling and shelving behind the couch complements floor-length deep brown drapes bordering a window-wall with sheer white curtains.
The stylish wood-grained flooring offers a richly textured foundation for the thick beige rug and fluffy beige throw on the ottoman. The pristine white wall and ceiling along with the stretch of grey marble flooring at the living room entrance emphasize the quiet elegance of this attractive interior.
Fashionable Sitting Room with Beige Couches and Stylish Pillows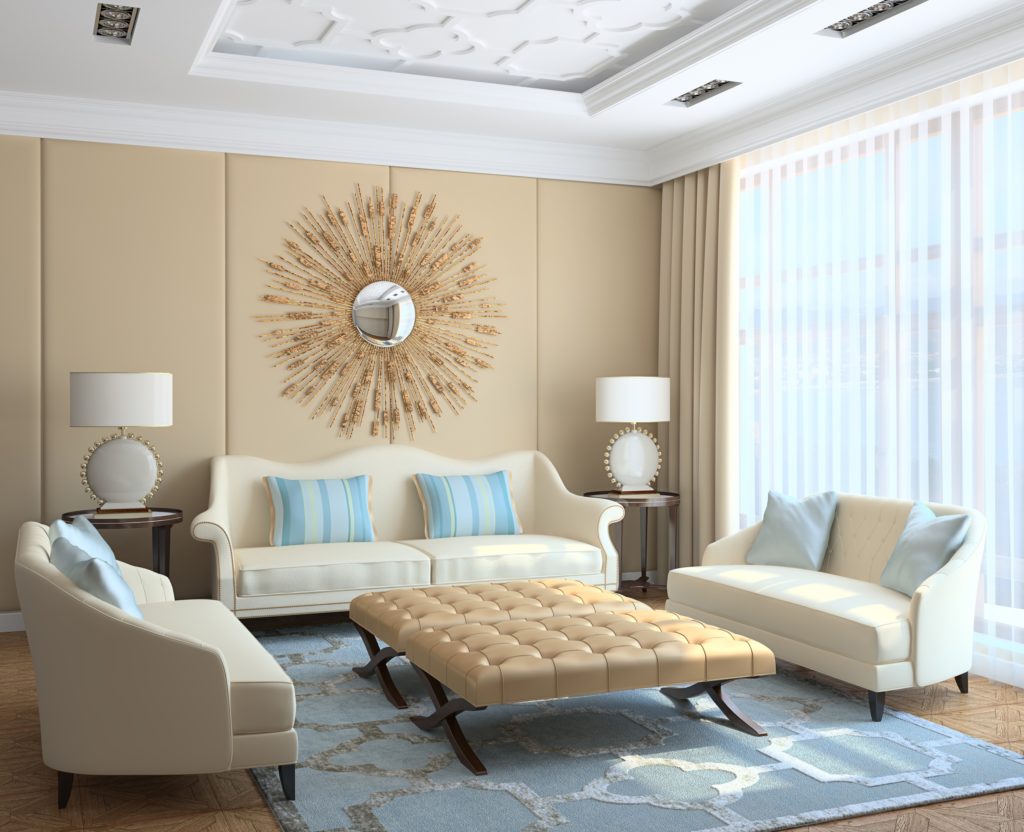 This spacious and elegant sitting room adjoining a bedroom displays three stylish light beige couches adorned with pastel blue and grey striped pillows. The deep beige walls and wood flooring showcase the fashionable décor that includes two large low rose-beige tufted coffee tables with crossed dark-wood legs. Above one couch, a stunning decorative circular wall piece exhibits ornate deep-golden beige spokes.
The beautiful blue and grey patterned rug aligns with the couch pillows' blue to further enhance this elegant modern-classic room décor. A window-wall is dressed with white vertical Venetian blinds that reveal sunlight and glimpses of a light blue sky. The white ceiling includes a central recessed section with ornate decoration.
Modern Beige Couch and Pillows in a Green-Walled Interior
This simply styled modern beige couch decorated with beige and cocoa-colored throw pillows and a darker brown coverlet is backed by a stylish green wall with two distinctive sections. While one side of the wall displays light spring-green painted surfaces, the other section is dark green painted wood paneling with decorative square insets. This paneling lends a touch of modern farmhouse style to the room.
The two green plants in stylish clay-toned pottery planters add pleasing natural décor to this inviting living space. The small metal-frame table with a natural wood top and the nearby beige pouf lend simple modern charm. The natural wood flooring with a deep beige floor mat and sunlight from a nearby window brighten and enliven the room.
Contemporary Country-Cottage Décor with Beige Couch and Pillows
This light and inviting contemporary country-cottage living room décor includes a beige and natural wood-finish futon. This stylish futon-couch displays solid beige pillows, a striped beige and white pillow and a dark brown and beige striped throw.
Two large woven natural-fiber tote bags, a woven basketry-style pouf and a patterned stoneware jug lend authentic country style to the room. A beige pottery vase with white flowers on the floor and the woven beige and dark brown striped rug add more craft-style elements. A main arts and crafts feature of this warm, attractive interior is the long stylish macrame wall hanging in light beige above the couch.
Natural-Toned Wicker Couch with Beige Cushions and Throw Pillows
This natural-finish wicker living room couch and matching chair display light beige cushions and soft cocoa-hued throw pillows. The medium-brown stonewalling in the corner and the deep brown wooden roller blinds behind the couch add character and depth to the room.
A red-clay square ceramic sculpture on a small side table lends creative style to this cozy interior. The unpolished oak-wood flooring and dark brown floor mat align with the varied brown shades of the roller blinds and stonewalling. This warm, relaxing living room offers simple style created by natural textures and surfaces.