The earliest use of scissors reported was in Mesopotamia between 3,000 and 4,000 years ago. About 100 A.D., the Romans are credited with inventing pivoted style scissors made of iron or bronze. The design of these cutting tools included blades that were fixed on a pivot point located between the handles and blade tips. In 1761, Robert Hinchliffe in Sheffield, England produced the first cast steel scissors similar to styles that are used today.
The typical general use scissors that we all use today were developed from this first Roman design. Modern scissors are available in myriad different styles and are designed for performing specific tasks. They are manufactured with blades of varied degrees of sharpness to comply with their intended use.
Contemporary scissors are produced in many different sizes, from pocket-size snipping models to large industrial sheers.
Twenty-nine different types of scissors that are commonly used for diverse purposes today include the following styles:
Standard Scissors
All-purpose Scissors
This pair of all-purpose scissors features slender yet sturdy stainless-steel blades and bright red handles. The bright color makes them easy to find quickly in your utility drawer or household toolbox. This scissors design can be used for cutting many different materials for various purposes.
Whether you need to cut paper, twine, thread, yarn, thin layers of rubber or plastic or the box top of your favorite snack food, these scissors will do the job well. As long as the material you are cutting is not too dense or thick, this general-use scissors design should enable you to complete the task quickly and efficiently without bending, breaking or jamming your scissors.
Right-handed Scissors
These metal scissors are designed to be held in the right hand for cutting. As you can see, the upper handle loop is shaped for the thumb, while the lower loop is shaped to accommodate one or more fingers of your right hand. Right-handed people will find using these scissors completely comfortable and easy.
If you are right-handed, you will be able to cut through even slightly stiff cardboard as long as it is thin. Your thumb will have the strength and leverage when using these scissors to cut in a straight, smooth line through paper, thin flexible plastic, thin cardboard and other materials.
Left-handed Scissors
These strongly constructed scissors are designed to be held in the left hand for use in cutting. Left-handed individuals will be able to cut materials with ease when using this scissors model. Using these scissors, they will be able to cut smoothly and evenly through paper, lightweight cardboard, slightly thick pliable plastics and cord or twine of thin to medium weights.
The durable handles of this scissors design are rather thick, offering a comfortable hold for left-handed users. The attractive color combination of the handles, red and gray, will distinguish them from your other cutting devices and tools in your storage bin. Their sturdy design also helps prevent damage if these scissors receive rough treatment.
Ambidextrous Scissors
As you can see, these scissors have an ambidextrous design. They are suitable for use by anyone who uses the right and left hand equally well. The two loops of the black handles of this model are identical in size and shape. Each one can accommodate a thumb or several fingers during the cutting process.
The strong yet tapered blades of this design are breakage-resistant unless you attempt to cut through material that is too thick or tough. They are intended for cutting through thin to medium-weight paper, cardboard, flexible plastic, string, yarn or cord. You can easily cut through several sheets of medium-weight paper at once with these scissors.
Kitchen Scissors
Kitchen Scissors
This pair of stainless-steel kitchen scissors with strong black plastic handles has an ambidextrous design. This convenient style can be used easily by all home chefs and food prepping members of your household, regardless of whether they are right-handed, left-handed or ambidextrous. No need to search for another pair of scissors to suit the user.
This versatile kitchen scissors design includes a nutcracker section at the base of the handles. It also features a built-in bottle opener on one of the cutting blades. The pivot screw connecting the two blades of this design is especially sturdy, which enables you to cut through tough vegetable stalks and stems without damaging the scissors.
Poultry Shears
These poultry sheers have lightly curved, easy to grasp handles suitable for right or left-handed users as well as those who are ambidextrous. The contour stainless-steel blades are relatively short and wide to ensure strong, even cutting. Since restaurant chefs and home cooks alike use these shears for cutting both raw and cooked poultry, the blades must be strong and durable.
The pivot screw connecting the two blades is thick to prevent breakage if the blades come in contact with bones during cutting. Although this poultry cutting tool provides sturdy blades designed for long-term use, the blades can dull with use. You can use a scissors blade sharpener to return them to their original sharpness when needed.
Gardening Scissors
Pruning Shears
These varied styles in pruning shears are useful for pruning different types and sizes of garden and lawn plants and trees. The larger pair with red handles has long flat metal blades for trimming back plant stalks and branches of bushes and trees with slim to medium thickness. These shears have a slide lock on one side to hold the blades closed when this tool is not in use.
The two smaller shears designs are useful for pruning smaller stalks, branches and vines. The one with darker green handles has wide yet short curved blades that can surround a small branch or flower stem for easy cutting. The other smaller pruner has narrower straight blades for reaching into denser bushes and plants to cut blooms or trim back overgrowth or dead branches.
Lopping Shears
These large, powerful lopping shears are ideal for pruning bushes and tree branches. This model displays strong curved blades that can encircle a branch or stalk for cutting. The steel blades are durable and can be sharpened after several pruning sessions as needed. These blades cut through branches smoothly, making a clean, precise cut without splintering the branch.
The long, strongly made gray handles of these loppers are designed to be grasped in either hand. By moving the handles together in a smooth chopping motion, you can cut through even tough branches and vines. The extra length of these lopping shears handles creates the leverage needed as you chop to cut through branches completely.
Hedge Trimmer
Hedge trimmers are very similar in design to lopper shears. However, these trimmers have shorter handles since hedge branches are easier to access for cutting than the branches of trees. This model of hedge trimmers has sturdy wooden handles with bright blue plastic tips near the blades.
As you can see, this model has a thick bolt for the pivot screw that connects the two cutting blades. Hedge branches can also be tough and difficult to cut through, especially while they are growing and the branches are green. For this reason, it takes strong chopping using a highly durable trimming device that can withstand regular use for keeping hedges in good shape.
Grass Shears
These grass shears are especially handy for trimming grass back around walkways and flower beds. The bright green top handle of this model makes it easy to spot if you happen to leave it on a walkway. With a pair of short handles, one above the other, these shears are operated easily with one hand to cut grass smoothly and evenly.
The wide metal blades of these grass shears are sturdy and can cut grass regularly without dulling. They rarely need sharpening and will resist damage even if you cut against a pebble or rock by mistake. They have a safety locking mechanism that enables you to leave them in the closed-blade, locked position when not in use.
Grooming Scissors
Haircutting Shears
These haircutting shears have slender handles and blades for precision cutting of hair. They are made of stainless steel to prevent rusting when exposed to water and wet hair. These shears are convenient for use by hairdressers since they can fit easily into the tool pockets and pouches of a hairdresser's smock or apron or on nearby wall racks.
As you can see, one of these pairs of shears has one comb-style blade with teeth for better gripping of hair to be cut. This shears design is also helpful for layering or feathering hair during hair styling. The lightweight hair cutting tools are also good for trimming hair smoothly and evenly close to the head for short hairstyles and for trimming bangs and hair at the nape of the neck.
Texturizing Shears
These shears are used for both thinning and texturizing hair during cutting and trimming. The blade with teeth like a comb helps to thin or layer hair, giving it light body while reducing any heavy thickness or bunching of hair growth. The other blade is smooth and cuts hair normally to achieve a well-groomed, professional look and style.
One of the handle loops of this hair shears design has a finger rest to ensure steady precision of hair cutting. These texturizing sheers are made of stainless steel to prevent rust or corrosion if they are dipped frequently in water during use to remove any clinging hair. Although they are lightweight, these haircutting and styling shears are quite strong and durable.
Swivel Scissors
Swivel scissors are very helpful to hairstylists with many clients and busy schedules. These scissors are specifically designed to support muscles and joints of the wrist, arm and shoulder of the user. These hair cutting, trimming and styling tools have ergonomic structures that relieve stress by facilitating comfortable placement of hands, arms and joints during hair styling.
These scissors generally have slender, graceful designs with slim, pointed blades for precision trimming. One of the handle loops has a finger rest for secure, steady cutting, layering and styling of hair. Even if you and other members of your household cut one another's hair, you can enjoy the ease of using swivel scissors while preventing wrist, elbow or shoulder stress and strain.
Thinning Scissors
Thinning scissors for hair such as this model typically have wider blades than most haircutting shears and swivel scissors. The ends of their blades are usually blunted or somewhat rounded. One blade has strong teeth like those on a comb for separating stands of hair for thinning and styling.
These scissors are also helpful in holding strands of hair steady during thinning. Especially for creating layered and shaped shorter hair fashions, hairdressers often rely on this type of thinning scissors. Usually composed of stainless steel like the majority of quality hair cutting and styling shears, these scissors do not rust or discolor when exposed to water or dampness.
Nail Scissors
These decorative blue-handled nail scissors with a bright daisy pattern stand out in a drawer filled with grooming tools and toiletries. Displaying the typical slender design of nail grooming scissors, they have very slim, delicate blades. The extreme point at the tip of the blades enables users to trim nails closely and evenly.
The handle loops of this scissors design are identical in shapes and size. This facilitates easy nail grooming while holding the scissors in either hand. As you can see, the blade tips of this tool are slightly curved to one slide. If you prefer them, ambidextrous nail scissors designs are also available on the consumer market.
Moustache Scissors
Moustache cutters and trimmers are small to medium-size scissors with slender and tapered blades. The blades are pointed on the ends to ensure close and precise cutting. These implements are especially designed for careful, even shaping and styling of mustache hair.
Like many hair cutting and styling shears and trimmers, these scissors have a finger rest attached to one handle loop. This aids users in cutting and shaping mustache hair smoothly and evenly. Even the mid-size styles of these grooming scissors come in stainless-steel designs to prevent rusting or discoloring.
Nose Scissors
Although somewhat larger, these nose scissors look much like nail scissors. Their slim, delicate lines and identical handle loops have the same shape and style. The tapered blades with their pointed ends facilitate easy, safe clipping and trimming of hair just inside the nostrils.
There are also nose scissors models available with blunted ends for safe trimming of hair a little farther inside the nostrils. Some of these designs feature slightly ridged blade ends for holding internal nose hair securely while trimming. All styles of these nose grooming implements make trimming nostril hair safe and easy.
Sewing Scissors
Dressmakers Shears
Dressmakers Shears are large scissors with long, sturdy yet tapered blades for cutting fabric of many varied weights and textures. These shears are often designed with one blade, the base blade, lightly thicker than the second blade. The base blade is below the slender (top) blade as you cut fabric and supports a clean, neat cut.
Older models of the fabric shears may be made of metal alloys that may dull or discolor over time. Yet they can maintain their strength and cutting precision for many years of use. Dressmaker shears usually have two distinct handle loop sizes, one for the thumb and the other for two or more fingers.
Pinking Shears
Pinking shears have been a standby instrument in the sewing and tailoring industry for years. They are fairly large scissors with strong tapered blades. These blades are edged with sturdy teeth that leave a zigzag edge when cutting fabric, which can prevent some fabrics from fraying and shedding threads after they are cut.
When cutting some fabrics for making clothing and other items, it can be especially helpful to use pinking shears. Later, when it is time to hem the item, there will be far less frayed fabric edges to deal with. This makes hemming the item, which is normally one of the last steps in completing a garment, curtain or other item, faster and easier.
Tailor Scissors
These tailor scissors have bright yellow handles, making them easy to spot on busy fabric cutting and sewing tables. Their blades are slender and tapered yet quite strong and durable. They are very useful for cutting patterns and smaller pieces of fabric, especially for complicated patterns or intricate decorative trim.
As you can see, this pair of tailor scissors has an ergonomic design that is more restful for the hand when cutting fabrics for detailed fabric patterns. The two handles are also designed to lock together smoothly when closed for easy carrying and storing. This feature also helps protect the blades from damage.
Embroidery Scissors
These elaborate vintage embroidery scissors display decorative brass work on the handles with added support for the upper handle (thumb) loop when cutting threads. This ensures accurate snipping of one or more fine threads when embroidering a detailed design.
This decorative pair of needlework scissors is in the shape of a stork, with the curved blades with pointed ends forming the graceful stork neck and bill. Since in years past, it was customary to embroider caps, booties and other items for a baby soon to be born, these scissors with the stork design had special significance. In addition, the curved blades are easier to maneuver around a delicate embroidery pattern, cutting single threads as needed without any mishaps.
Buttonhole Scissors
Buttonhole scissors are designed with a small screw to turn for adjusting the blade to the desired length for creating a buttonhole in fabric. These specialized sewing scissors also display notched cutting blades. These notches enable sewers to make buttonholes while avoiding cutting the fabric edges.
Although they are small with fairly delicate handle and blade designs, these specialty scissors are quite durable. Their small, slender form is helpful when making buttonholes since the holes are usually near the fabric edge for shirts and jackets. When using a small, slim buttonhole scissors design, you can avoid any cutting mishaps.
Small Snips
These small snips are a specialized scissors design that enables tailors, sewing enthusiasts and knitters to cut and trim thin thread and yarn. The narrow U-shaped handle of these sewing tools makes them easy to use. It also helps in maneuvering to snip threads around intricate appliqué, embroidery and needlepoint work.
The short blades of these small snipping tools are quite sharp-edged to ensure precision cutting of fine threads without damaging fabrics. By pressing and releasing the U-shaped handle, you can carefully snip only the thread or yarn that you need to cut. Although it can take some practice to gain skill in using small snips, they are a very convenient sewing accessory to have.
Medical Scissors
Bandage Scissors
These medical bandage scissors cut bandages and protective gauze coverings of all sizes and shapes quickly and easily. Their angular shape enables the user to operate the handles comfortably above the clean bandage material while the blade fits flat against the bandage surface for cutting evenly.
These scissors are usually made of high-grade stainless steel and meet medical standards for quality. The two slim handle loops are identical in size and design. When in the closed position, these scissors are easy to carry in a pocket or scissors case for easy access when needed.
Trauma Shears
Trauma shears are essential for cutting away clothing or protective athletic padding or supports if a serious injury occurs. These cutting tools are standard equipment for EMS staff and ambulance teams. Medics on the staffs of sports teams also include these shears in their medical supply and first-aid kits.
Both thumb and finger handle loops of trauma shears are large to accommodate gloved hands of different sizes. The finger loop is adequate for fitting three adult fingers to ensure precision use of these shears. The blades are lightweight yet very sturdy, designed for cutting through material of different weights and textures.
Iris Scissors
Iris scissors were originally designed for use in eye surgery as surgical cutting aids. Today, they are commonly kept in hospital operating rooms to be used in other surgeries and medical applications. They are very useful for making small detailed incisions in areas of the body that are difficult to cut using larger instruments.
These surgical scissors are made of medical-grade stainless steel, and curved iris scissors must be sterilized for use in surgical procedures. Their sharp tips are somewhat hazardous to busy medical staff. For this reason, they must be treated with care when used along with other instruments for performing surgery.
Industrial
Hydraulic rescue tools
Hydraulic rescue tools have powerful jaws that can open wide and close tightly. These tools are used by emergency rescue teams to help in extracting victims from vehicle accident sites. They are also used at disaster sites to free trapped individuals from the wreckage of building collapses, construction site accidents and burning buildings.
Hydraulic rescue tools include heavy-duty cutting devices, spreaders and rams to help free injured or trapped victims as quickly and safely as possible. They are designed for easy use in small, cramped spaces as well as open areas. Composed of durable steel and other rugged components, they can withstand strong pressure and operate will in extreme temperature and weather conditions.
Special Scissors
Ceremonial Scissors
These elegant gold ceremonial scissors are used for cutting silk ribbons at the grand opening ceremonies for new buildings, features product introductions and the openings of many sports arenas and performance halls. The gold color and stylish design of these scissors is a symbol of successful achievement or the start of a new and exciting enterprise.
These scissors are typically large and polished to reflect brightly in bright lights. They also look glamorous in promotional photos and press coverage of opening ceremony events. When not in use, these fashionable scissors designs are usually kept in closed cases or cabinets until the next special occasion and ribbon cutting ceremony.
Cigar Cutter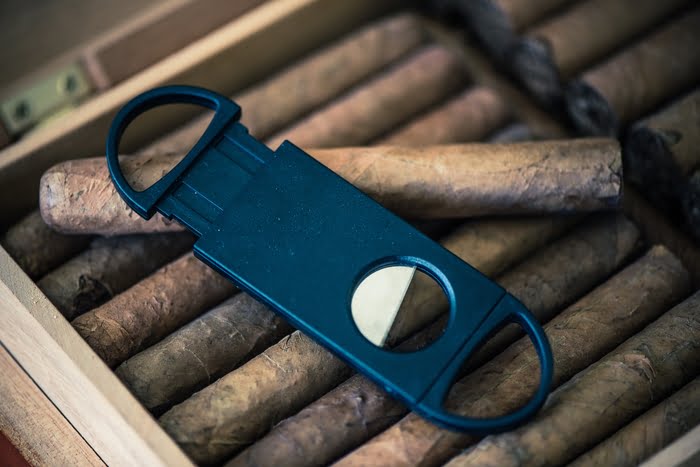 Cigar cutters are a must for anyone who enjoys smoking cigars. They also make stylish and useful gifts for cigar smokers. These cutters are available in a variety of shapes and styles. They are typically made of metal with a central hold for fitting the cigar for cutting.
Rectangular cigar cutters have a handle at both ends. One handle operates a moving blade that glides through the hole to cut the cigar tip in preparation for smoking. Although there are different shapes and sizes of cutters on the market, the flat styles are easiest to carry for use as needed.