Many people of all ages look forward to celebrating Halloween every year on October 31. This tradition originated in the Celtic festival of Samhain in ancient times. During this festival, the celebrants built bonfires and wore costumes to chase away ghosts.
In the Eighth century, November 1 was designated as a day to honor the saints by Pope Gregory III, and All Saints Day continued familiar traditions of Samhain. The evening before this day was named All Hallows Eve, which later became Halloween. During the years since then, Halloween gained new traditions that continue today.
Today, this festive day is still celebrated by carving pumpkins into jack-o'-lanterns, wearing colorful costumes, trick-or-treating and eating countless treats.
When Should You Start Decorating for Halloween Each Year?
Party planners suggest starting to decorate for your Halloween celebration at home, school or the office within the first two weeks of October. If, however, your decorations are large scale or difficult to handle and install, you may want to begin in late September.
Since everyone enjoys seeing bright, colorful holiday displays well in advance of October 31, feel free to follow your own decorating preferences for Halloween. By doing so, you will get your friends, neighbors and coworkers as well as casual passersby into the spooky, prankish and fun-filled mood to celebrate.
Fresh, Innovative and Fun-Inspiring Ideas for Halloween Decorating
The following are festive, fashionable and funny ideas for innovative Halloween displays:
Porch with Funny and Fierce Halloween Jack-o'-Lanterns and Autumn Leaves
This festive home porch and steps exhibit multiple cleverly carved jack-o'-lanterns with funny and somewhat fierce expressions. Their ghoulish grins suggest some holiday tricks to accompany the treats. The white wooden porch railing and the gray porch floor are decorated with many-colored autumn leaves.
The home's bright auburn wooden door and vintage porch rocking chair offer the perfect setting for this Halloween display. Party guests, neighbors and passersby can all enjoy this lighthearted scene for the holiday. Whether you celebrate Halloween or not, this decorative porch will brighten your day and intrigue your evening.
Halloween Living Room Display with Pumpkins, Gourds, Balloons and Skeleton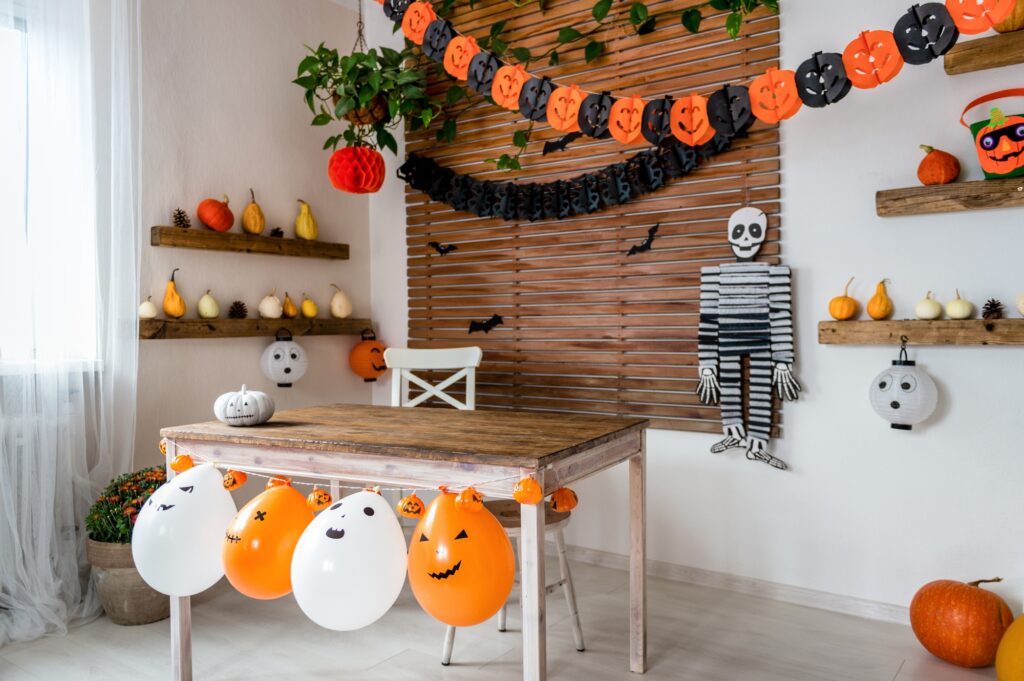 This charming Halloween living room display includes rustic wooden window blinds adorned with a large paper doll-style skeleton in black and white. Suspended streamers displaying black and orange jack-o'-lantern cut-outs, black leaves and a hanging green plant with a bright orange pumpkin design lend festive authenticity.
Rough-hewn wooden wall-mounted shelves exhibit colorful jack-o'-lantern, pumpkin and gourd displays, and on the floor near one shelf is a pair of life-size natural pumpkins. A vintage distressed white table with a natural-wood top displays a small white pumpkin with lightly sketched facial features. Attached to the front edge of the table are four delightful orange and white balloons with happy faces.
House Interior with Halloween Pumpkins, Web and Spiders
From the strings of wall-mounted orange and black flags reading "Happy Halloween" to the fireplace decorated with pumpkins and white candles, this home interior announces the holiday. The large web with spiders above the mantel strongly suggests spooky party time fun. On the mantel, a jack-o'-lantern with a ghoulish grin and bordered by an open black picture frame wears a tall pointed witch's hat.
Beside the mantel display, a cluster of black and orange polka dot helium balloons and two black-framed lanterns on the floor below complement the black and white bearskin style rug. On the other side of the fireplace, a small white table with two grinning jack-o'-lanterns and a nearby basket with more pumpkins enhance the cocoa-hued couch display of pillows in black, orange and gray along with a black throw and more small pumpkins.
Cozy Vintage Style Halloween Decorations with Rocker and Fireplace
This cozy hobo style den interior features a cluster of tall handcrafted white candles beside a vintage molded wooden rocker draped with a dark khaki blanket. Nearby is a tall antique white lamp with a tasseled white silk shade beside a simple white fireplace and mantel. Above the fireplace are large black letters that read "Happy Halloween," and on the mantel are more large white hand-made candles, smaller candles and other decorative items.
The rustic wood shiplap walls lend added vintage character, and the room is cloaked in cobweb decorations, providing a realistic, eerie atmosphere. Black, gray and white pumpkins and gourds create a spooky floor display along with one gold gourd in a cage. A nearby skull surveys the scene soberly, and a vintage clock with Roman numerals and small framed prints brighten the rugged timber walls.
Humorous Halloween Bench Display with Pumpkin-Headed Life-Size Doll
This humorous and colorful Halloween scene features a life-size laughing rag-style doll with a pumpkin head and wearing a man's hat and clothing. The bright turquoise bench also displays small white and large pumpkin-colored jack-o'-lanterns, all with candlelight inside. Nearby, a larger pumpkin has a smiling pumpkin head cocked to one side.
Behind the bench, the windowsill is adorned with another brightly smiling jack-o'-lantern and a slender smiling gourd. Nearby is a terracotta vase with flowers and greenery, candles and other items of décor. The windowpanes are decorated with autumn leaves in traditional coral and light gold tones.
Closeup of Festive Halloween Fireplace with Spooky Accents
This colorful closeup of a decorative Halloween display in a white room features two strands of flag-style wall banners reading "Happy Halloween." Above the fireplace and mantel, an oversize web with spiders adorns the wall, while the mantel decorations include a small pumpkin, white candles and a larger jack-o'-lantern in a pointed witch's hat and surrounded by a black frame. The black and white rug and deep beige couch with decorative pillows accent the holiday style.
Large white handcrafted candles, pumpkins and a large gourd create a fireplace display. Beside the fireplace is a pair of black metal and glass lanterns beneath helium balloons in bright orange and pitch black with festive polka dots. Near the opposite side of the fireplace are a basket of pumpkins and a white table displaying two more grinning jack-o'-lanterns and a hand-painted "Trick or Treat" sign in bold orange letters.
Bright Home Office with Creative Halloween Décor
This bright and cheerful home office setting is decorated with creative and lighthearted Halloween décor. There are two grinning jack-o'-lanterns on the floor beside the desk and a third one on the other side. Another pair of carved pumpkin faces decorate the desktop, and still another one grins from a desk shelf.
These bright pumpkin faces are lit from candles inside, and one on the desktop wears a black pointed witch's hat. Two black bats hover above, suspended on the white wall above the desk, and one desk shelf displays a skull. A green potted plant, the sleek desk set, three industrial pendant lights and a tripod-model floor lamp with a white shade lend modern style.
Front Steps of Home with Clusters of Carved Pumpkins for Halloween
The front steps of this home exhibit clusters of carved and whole pumpkins in celebration of Halloween. These pumpkins in orange and white offer an attractive festive entrance to the home's white exterior and black door.
On one side of the door, a happily grinning jack-o'-lantern and two more pumpkins surround a green tree in a black urn. On the other side of the door, a black bench displays another smiling jack-o'-lantern and more pumpkins. The wall above the bench exhibits a large web with bats and a spider, and across the stoop, two large bats add decorative atmosphere to a black lantern sconce light.
Inviting Living Room Interior with Festive Halloween Display
This appealing living room décor features a soft suede couch in mocha tones decorated with two bright orange pillows and a black coverlet. The glass-topped coffee table displays two jaunty jack-o'-lanterns, one orange and another in black and perched on a larger orange pumpkin. Two more pumpkins and a potted flowering plant complete this engaging Halloween display.
Behind the couch, tall open black-framed shelves exhibit a colorful array that includes another pumpkin, books, pottery, famed pictures, a lamp and other decorative items. Beside the couch, a green plant and a tall basket with a white pillow add pleasing accents. On the wall beside the couch, two strands of orange and black banners display the cheerful greeting, "Happy Halloween."
Festive Home Entrance Abundant with Halloween Decorations
This home entrance offers an engaging festive display abundant with pumpkins and lighted jack-o'-lanterns for Halloween. Charming yet ghoulish carved pumpkin faces seem to gleam from everywhere in this effective holiday setting. On and above the black door, two scowling skulls announce the spooky night's atmosphere.
Candles and dried autumn leaves add more decorative effects to the home's entrance walkway, and a long garland of multi-hued leaves borders the doorway. An eerie soft light shines through small pane-windows on either side of the black door. On both sides of the doorway are black-cloaked figures supported by tree branches with candle-lit and widely grinning jack-o'-lantern heads.